19 August 2011
Raiders of the lost archive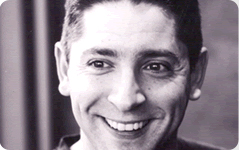 Miguel Mera
Well, I don't know - this blog publishes nothing in over three months, and then we get three posts in the space of three hours. Where might all this giddiness end? Here's news of an event taking place at the end of September, one of the regular series of 'Sound Cases' talks that we hold throughout the year:
Raiders of the Lost Archive: revealing process in film composition
When: Thu 29 Sep 2011, 13.00 – 14.00
Where: Centre for Conservation, British Library
Price: Free, booking essential
As early as 1989 Stephen Wright suggested that the lack of availability of source materials was the largest obstacle to the widespread advancement of film music scholarship. This presentation will suggest ways in which a variety of source materials, especially digital sources, might impact on our understanding of film music. As a film composer himself, the speaker is uniquely able to comment on the practical, collaborative and creative interactions that take place during the creation of a film score, thus providing an insight into soundtracks both artistically and within their production contexts.
Miguel Mera is a composer of music for the moving image and a musicologist. He has composed music for feature films and numerous television dramas and documentaries. Miguel is the Head of the Centre for Music Studies at City University.
Do come if you can. It promises to be quite a special event.