03 October 2011
Recording of the Week: Oleg Borushko
Stephen Cleary, Lead Curator, Drama and Literature Recordings, writes: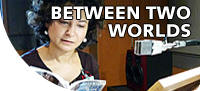 Russian poet Oleg Borushko perpetrated a literary hoax that proved so successful that it almost overshadowed his own serious work. His book of haiku Erotic Tanks was published under the name Ruboko Sho, who purportedly composed his verses in the 11th century. In fact the poet did not exist and Ruboko Sho was a partial anagram of Borushko's own name. In this recording, which was made at Christmas 2010 in Borushko's kitchen in Abbey Wood, London, he reads some of these haiku, along with more serious works. In Russian language only.
http://sounds.bl.uk/View.aspx?item=024M-C1340X0057XX-0000V0.xml
'Recording of the Week' highlights gems from the Archival Sound Recordings website, chosen by British Library experts or recommended by listeners.