03 November 2011
British Library's Historic Ethnographic Recordings receives UNESCO accolade - part 1
Janet Topp Fargion, Lead Curator, World and Traditional Music, writes: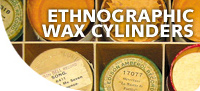 UNESCO has officially recognised The British Library's Historic Ethnographic Recordings as a collection of global significance and outstanding universal value. UNESCO's International Advisory Committee has agreed to include The Historic Ethnographic Recordings in their Memory of the World International Register - akin to the list of World Heritage Sites for documents and archives. The Historic Ethnographic Recordings collection contains many rare field recordings of orally transmitted cultures made throughout the world by linguists and musicologists. Some of these recordings represent the earliest extant sources for research into those cultures and have been captured in the most vivid format available at the time, the linguistic and cultural diversity of today's 'global village'. The recordings are truly global in their scope ranging from Africa, South Asia, Australia and the Pacific Islands, China, Eastern Europe and South America, as well as the more familiar sounds of England, Scotland and Wales. The collection dates from 1898 to 1951, the earliest being wax cylinder recordings from the groundbreaking Cambridge Anthropological Expedition to the Torres Strait, led by Professor A.C. Haddon. This was the first British expedition to use the phonograph for research purposes. The latest recordings are the Bogumil Witalis Andrzejewski acetate (nitrate lacquer) discs which comprise songs, stories and spoken texts recorded as part of Andrzejewski's linguistic research tour in Somaliland and Somalia in 1950-1 under a Colonial Welfare and Development Research Scheme.
This recording was made before the Torres Strait expedition set off. It's labelled: "Vocal demonstration of phonograph (or graphophone) - wishing Mr. Ray success on his journey". It gives a beautiful glimpse into Victorian life!
http://sounds.bl.uk/View.aspx?item=025M-C0080X1485XX-0100V0.xml
Part 2 of this item will appear on 10 Nov 2011