28 November 2011
Recording of the Week: Lullabies
Janet Topp Fargion, Lead Curator, World and Traditional Music, writes: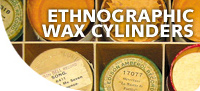 Arthur Henry Fox Strangways Collection. "Lullabies" recorded in India in 1910/11 which demonstrates the reality of the recording medium as the equipment is heard to be wound up mid-song. Another example from the British Library's Historic Ethnographic Recordings collection included this year in UNESCO's Memory of the World International Register.
http://sounds.bl.uk/View.aspx?item=025M-C0072X0876XX-0100V0.xml
'Recording of the Week' highlights gems from the Archival Sound Recordings website, chosen by British Library experts or recommended by listeners.