16 April 2012
Interactivity and British Library Sounds
Have you recently visited the new British Library Sounds website and tried out its new features?
The British Library Sounds website (http://sounds.bl.uk) now has 50,000 sound tracks, all freely available for listening online. It represents the most diverse online collection of scholarly sounds anywhere, and now has improved interactive features, including tagging, favouriting, playlist generation and timed annotation features.
Simply register on http://sounds.bl.uk, then those features are enabled. Registering allows you to make notes, add tags and personally manage items using favourites and playlists.
An example of timed annotations is here:
http://sounds.bl.uk/Accents-and-dialects/Survey-of-English-dialects... (& see the screen grab image below), but please do register yourself and add your own notes to other tracks.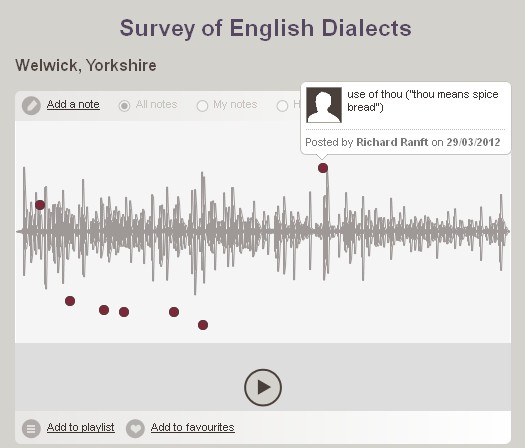 Watch this space over the next few weeks as we announce more collections that have recently been digitised and copyright-cleared for public access.