02 May 2012
The Test Records of Ludwig Koch
Cheryl Tipp, Wildlife Sounds Curator, writes:
A recent visit to the British Library basements revealed a collection of 30 single-sided test records relating to Ludwig Koch's 1936 publication 'Songs of Wild Birds'. This sound book was Koch's first publication after arriving in the UK from his native Germany and comprised two double-sided 78rpm discs accompanied by an illustrated textbook written by the esteemed ornithologist Max Nicholson.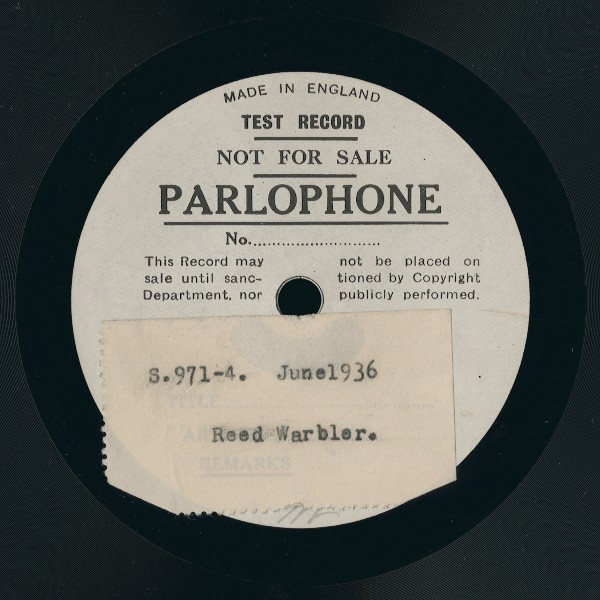 In the spring of 1936, Koch and a team of engineers used the H.M.V mobile recording van to gather together recordings of common British species that had been identified as essential content for the publication. The task was by no means simple, with Koch and his team often dissatisfied by their recording results. The main problem was that Koch could not audition his recordings in the field. In his autobiography, 'Memoirs of a Birdman', Koch wrote:
"At that time recording on wax was undoubtedly the best method…….for my special work however, it had the disadvantage that I could not play back and listen to the result of my recording; and how often was I disappointed when a half-processed shellac disc was played back!"
Despite many challenges, the task was completed by the start of June 1936 and the selection process could begin. Koch had amassed a healthy collection of recordings, several hundred in total, and now it fell to him to choose the material for the final records.
"In a tiny recording studio at the premises of E.M.I in Abbey Road I had endless sessions with the five technicians, Frank Chown, W. Dickson, Edward Towen, H.S. Hack, and C.J. Anderson. It was mid-July before the records for the book could be played to Huxley, Nicholson and Witherby. How delighted they were to hear for the first time the recorded voices of British song-birds!"
'Songs of Wild Birds' was a great success, receiving much praise from both the press and public, and helped establish Ludwig Koch as the leading light in wildlife sound recording.
The recordings mentioned above can be found in the Early Wildlife Recordings collection under miscellaneous.