17 July 2012
New collection of sport interviews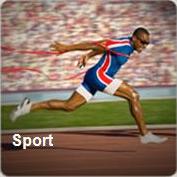 Elspeth Millar, Oral History Archive Assistant, writes:
As part of the British Library's Olympic celebrations we have made available a new online package of sixty-one oral history interviews documenting the lives and careers of British sportsmen and women throughout the twentieth century.  Recorded over the past twenty years, the recordings within the Sport package are drawn from a number of oral history collections archived at the British Library, and include interviews with track, field and road athletes, fencers, canoeists and swimmers. 
Many of those whose interviews are made available are household names (such as Sebastian Coe, Menzies Campbell, Tanni Grey-Thompson, Jacqui Agyepong, David Bedford, and Roger Black) whilst others are lesser-known or forgotten champions whom we hope will regain prominence through this new resource (such as marathon runner Jim Peters, racewalker Don Thompson, and relay sprinter Bill Roberts).  The collection also includes unique interviews with those involved in the coaching and teaching of sport, and those who witnessed historic sporting events such as the 1936 Berlin Olympics.  There are also memories of the first Paralympics/Olympic Games for the Disabled in 1952 at Stoke Mandeville, an interview with Colin Hancock, dentist to the British Olympic team at the Barcelona Games, and with gold and silversmith Stuart Devlin, who designed the 2000 Sydney Olympics gold coin series. 
The recordings are available worldwide and can be accessed at http://sounds.bl.uk/oral-history/sport; we hope to add further interviews to the collection in the future.