10 December 2012
Editing the A.R. Gregory Kenyan bird recordings collection
Mark Peter Wright, supported by the Wildlife Sound Trust, writes about editing the A.R. Gregory Kenyan bird recordings collection:
Editing the digital transfers of A.R Gregory's vast Kenyan wildlife collection revealed not only many species of rare and indigenous birds, but a man clearly dedicated to his work. Verifying each recording from Gregory's own meticulously kept notes, I was surprised and somewhat touched to see the first notated entry was made on Christmas Day 1967. The pages went on to cover four decades worth of recordings, made in locations such as: Kakamega Forest, Mau Forest and Lake Naivasha;  in addition to many recordings from the Masai Mara.
Gregory's type written notes were brought to life through his own announcements before, at the end, or sometimes in the middle of a recording. His knowledge and passion was always plain to hear and an additional collection of photographic slides reveal a man with a keen eye as well as ear.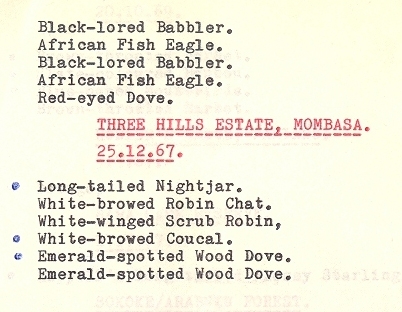 The quality of recordings (over 4,000 in total) throughout is exceptional and considering the time period, particularly the earlier years, one has to recognise Gregory's grasp on the technical and situational aspects of working in the field. Couple this with the physical size and weight of recording equipment during the time and again, it speaks of a man entirely dedicated to a particular region and its wildlife. 
Inevitably some recordings stood out during the editing process. Whether it was the fizzing tune of the Dark-backed Weaver; the mournful whistle of the Wattle-eye Flycatcher; or the languid laughter of the Black & White-casqued Hornbill, at times the results are like an aerobic workout for the ear.
The final recording is dated 21st of March 1993 and marks the culmination of a life's work. It is now accessible for the first time through the Environment & Nature section of British Library Sounds.
To read more about the A.R. Gregory collection, please click here