Cheryl Tipp, Natural Sounds Curator writes:
On Tuesday 13th November a mixed bunch of recordists, artists, curators, students and members of the public gathered at the British Library for the first Kinokophonograhy listening evening to be held in London. These evenings allow individuals with an interest in sound to come together, share their recordings and enjoy the experience of communal listening. The theme of this event was inspired by the Library's current exhibition Mughal India: Art, Culture and Empire, and recordists were invited to submit recordings that, to them, signified beauty. 13 recordings were selected and together formed the first session that included birdsong, soundscapes, a laughing baby, the sounds of a crumpled duvet and gym members trying to achieve the body beautiful.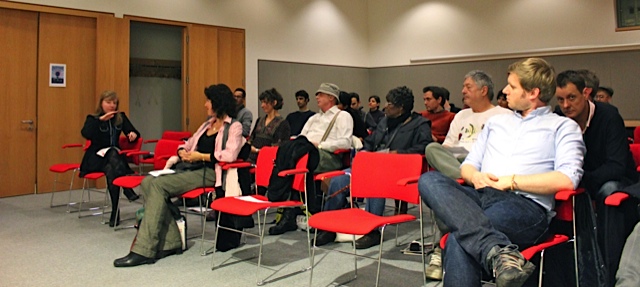 The second session featured recordings that were submitted in response to an open call and thus did not revolve around a particular theme. This session gave contributors the chance to share those special treasures that every recordist has in their personal archive and the results were wonderful.
Kinokophone collective member, Amanda Belantara, led the event perfectly and created a memorable evening for all. We would like to thank both Amanda and Michael for their efforts and hope to welcome them back for another Kinokophonography event in 2013.