12 March 2013
Sounds of the Maasai Mara
Cheryl Tipp, Natural Sounds Curator writes:
The Maasai Mara is one of Kenya's largest and most biodiverse national reserves. Covering an impressive 650 square miles and bordering Tanzania's Serengeti National Park, this vast stretch of land supports a wealth of wildlife and bears witness to the annual Great Migration which sees millions of zebra, antelope and wildebeest travel hundreds of miles in search of fresh feeding pastures.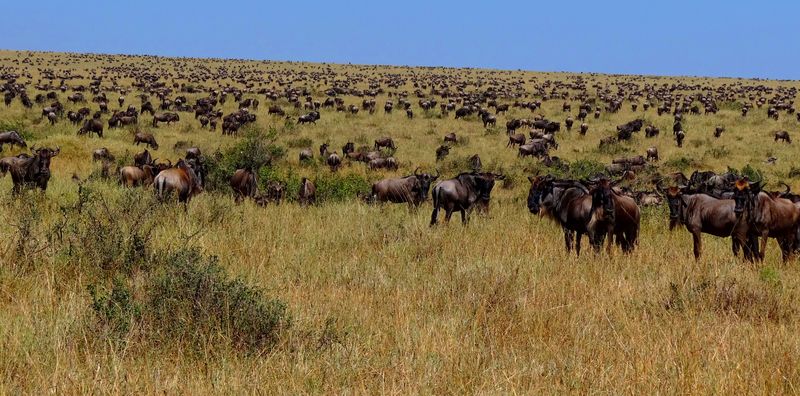 Over 470 bird species have been identified inside the reserve. Ornithologist and sound recordist, A.R. Gregory, who over the course of his life amassed over 4000 sound recordings of Kenya's birdlife, spent some time on The Mara in the mid 1970s where he collected a range of bird songs and calls, some of which are highlighted below:
Bare-faced Go-away Bird, Corythaixoides personata
Recorded at Keekorok Lodge, Masai Mara on 20th May 1974
Black-headed Oriole, Oriolus larvatus
Recorded at Keekorok Lodge on 21st May 1974

Grey-capped Warbler, Eminia lepida
Recorded at Keekorok Lodge on 19th May 1974 
White-browed Robin Chat, Cossypha heuglini
Recorded at Keekorok Lodge on 20th May 1974

Woodland Kingfisher, Halcyon senegalensis
Recorded on 23rd May 1974, exact location unknown
Keekorok Lodge first opened its doors to guests in 1962 and is the oldest property in the Maasai Mara Game Reserve. Surrounded by lush grassland, this site has offered a perfect base for countless ornithologists and naturalists drawn to the stunning landscape and biodiversity of this magical land.
More recordings from the A.R. Gregory Kenyan bird collection can be heard here.
(Image courtesy of Bjørn Christian Tørrissen)