09 September 2013
Tessa Elieff: witness, documentarian, provocateur
Tessa Elieff is an Australian sound artist, archivist and curator - currently living in Canberra and working at the National Film and Sound Archive (NFSA). As an artist, she explores methods in electroacoustic composition using sonic processing, phonography and surround sound, presenting her work under pseudonym, Tattered Kaylor. Her live performance draws on concepts of the Acousmonium as developed by Francois Bayle (1974), with her favoured tools for sculpting sounds including architectural cavities (manmade and natural), sonic/spatial memory, concrete, steel, stone and controlled systems of diffusion. she recently spent three weeks working in the British Library's Sound and Vision department as part of an ongoing staff exchange programme with the NFSA.
I grew up on a property outside of Adelaide in South Australia. While it wasn't far from the city it was remote and so naturally – as a curious kid you go hunting for your interests. We lived next to a forest (my parents are still there) and I would go for walks – into the trees, up to the dam, to find a space to think and listen. Kangaroos, snakes, echidnas, bluetongue lizards and bull ants that give a bite far worse than a bee sting were common stance and instilled in me a healthy respect for them and their habitats.
I won't say that we lived a hard life but living in such a setting the unwieldy dominance of nature is always present. The fact that through the eyes of the elements your mortality is no different to every living thing around you becomes blindingly obvious and reminds you that you are part of a bigger tale. A walk into the forest will present you with both little deaths and new life's that contribute to this story, irrespective of whether or not you are there to act as witness.
And that's how it began really, with me taking my place as witness to the purpose around me. The practice of recording the environment didn't commence until I was 20. Up until then I worked with pre-recorded sounds in non-conventional ways but that's another story for another time.
I moved to the city and I kept my place, be it in a forest in South Australia or in an urban nightscape of Melbourne. For these reasons I think some people feel conflicted about my work. I am not a, 'purist', in that I do not work exclusively with unprocessed field recordings of natural sounds. I am a contradiction in a sense – a bit of a dilemma as posed by a contemporary sound artist. I record sounds of nature and the sounds of machine. I am in awe of nature's critters and of humankind's mechanical beasts. I worry about global warming and the costs our constant hunger for more technology and industry will inflict on nature yet I use equipment that is born of these developments. I consider myself both futurist and acoustic ecologist, an oxymoron that is a product of my surroundings and of my generation.
The constant between my works would be the source of inspiration – the environment. There's something inexplicably humble about a building or space that possesses a unique sonic atmosphere. It exists as an absolute; you can visit it as a destination. It simply is, regardless of your observations and it provokes you to choose whether or not you will hear it. In cities, I tend to be drawn to unacknowledged public spaces. Those that exist as a function to make possible an outcome such as drainways and ceiling spaces that house a building's mechanical organs – they're granted immunity to our aesthetic standardising of urban surroundings. In a sense, they are wild. Left to themselves they can develop into startling experiences should you chose to have them. In nature, unhoused by walls, the environments tend to spread further. The sense of being unseen amplifies and morphs into one of equality between yourself and that around you. That is when I gather my 'Best', sounds. 
I use my own surround recording techniques – a mix-mash of what I have researched, what I believe from my own experiences and what equipment I have available. The first piece I did in such a manner was an inner city six level stairwell in 2007. What was to be one recording developed into a three year project with the last session consisting of speakers emitting resonating tones on each level. Using the microphone's leads and railings of the floor above, I was able to suspend the microphones in a singular line and mid-air, down the stairwell's centre shaft. The final composition is a multichannel recording across a vertical plane; turned ninety degrees and translated into horizontal for surround composition.
I revisited the method of playback and record with the recent piece, 'Taken to Booroomba'. The setting was atop of the rock mountain, Booroomba, at Namadji National Park, in the Australian Capital Territory (ACT). I had been living in the ACT for 6 months or so and the two things I noticed on arrival are its abundance of crickets and its fleeting brutal thunderstorms. The composition that I created for playback atop of the mountain was specifically to react with these two elements and so I find myself standing on a rock mountain, watching a storm slowly approaching. My mortality felt very apparent and the crickets were wise enough to disappear. I recorded until the rain became hail and then moved everything under cover. The microphones took the rain very well. Next time I will wrap the mic stand and the T-bar in soft towel so as to absorb the harsh twang of the drops hitting the metal.
In October of this year I will be heading to the coastline of North East England to work under the expertise of Chris Watson. The project is based on developing skills in location recording technique, particularly in three-dimensional sound recordings (surround). Each time Chris and I speak about the plans they grow a little further and it is these changing subtleties that allow the project to become a larger concept.
Our last conversation we began discussing the places for the recordings in relation to their history. The stories I read about England's castles and islands sound fantastical to me, don't forget, Australia did not have a 'middle ages', so to speak. The island was inhabited only by its indigenous population at this time. Colonisation commenced in late 18th century and the origins of Australia's western culture and civilisation are to be found in the castles, churches and islands of England. Gathering sounds in these historic spaces will indubitably lead me to think about this leap in time and on entering them I often feel I am experiencing its history condensed, where one minute of listening coveys centuries of stories.
Sound is such a beautiful medium to work with. It's physical yet ephemeral. To listen takes time. It's an agreement of exchange between perceiver and sound – your time to listen in trade for the experience. Recording the world around me I believe I am illustrating its existence as both documentarian – whereby sounds are as true to life as possible – unprocessed and 'pure', and as provocateur whereby by my translation of the sounds act as catalyst to the perceiver's imagination, enabling them to envision something outside of our everyday. On blending the two the lines can become blurred, between 'What Is' and 'What may be' only proving, just how wondrous the world around us really is.
Favourite Microphones: DPA 4060 (omnidirectional), Rode NT4 (stereo).
Favourite recording device: Sound Devices 788T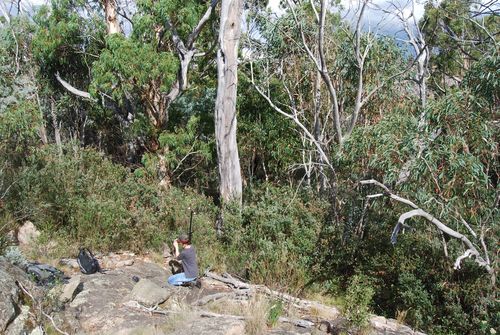 'Taken to Booroomba' is taken from the album 'Sombre nay Sated' (Stasisfield 2013)
'Volume' (excerpt) is taken from the album 'Selected Realities' (Moozak 2012)

Audio works from Tessa Elieff including Selected Realities (British Library call number 1DVD0009583) are archived at the British Library. For full details, please visit the Sound and Moving Image Catalogue.