24 April 2014
Inspired by Flickr: Chris Lynn
Next up in our Inspired by Flickr series are two compositions from filmaker and sound artist Chris Lynn. The brief was to create a short sound piece inspired by one of the fabulous 1 million images released by the British Library last year onto Flickr Commons. The first image to catch Lynn's eye (and inspire his ears) was a 17th painting of Native Americans taken from William Strachey's 'Travels through Virginia'. The coloured engraving, entitled 'Their Sitting at Meate', called for a more faithful approach when creating the aural setting. Lynn wrote:
I felt the Native American scene required just a simple field recording of waves gently breaking on the shore. I wanted to keep the recording  authentic as possible because the sound and the image are embedded with multiple meanings concerning the history of Native Americans in North America.
We skip forward a couple of centuries with the second image, a 19th Century photograph of the Northern Pacific Railroad yards of Tacoma, Washington. The photograph comes from a much larger collection of landscapes presented in the book 'Atlantis Arisen; or, talk of a tourist about Oregon and Washington..illustrated'.
The Tacoma train photo required something more industrial and slightly dramatic. The expansion of the West was already well on its way, but the photograph has a slightly haunting and modern sensibility. For this I chose a heavily processed field recording. My objective was to highlight the contrast in the composition. We see the trains of Tacoma, but also the great northwest landscape in the background.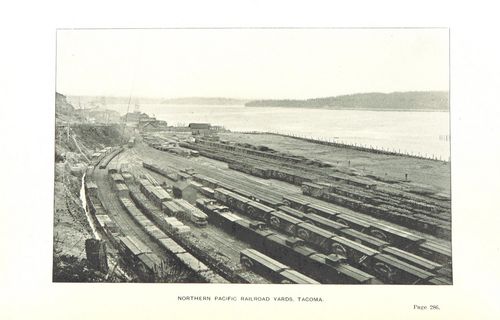 Northern Pacific Railroad Yards
The two compositions perfectly demonstrate different ways in which composers can respond to a visual stimulus, whether the approach is one of authentic recreation or experimental interpretation. It will be fascinating to hear the different responses as this series continues to evolve. With each composition being influenced by both the image itself and the creative style of the composer, a collection of completely unique works will begin to emerge, inspired by images that are being seen by 21st Century eyes for the very first time.
If you would like to take part, please visit our Inspired by Flickr post.
--------------------------------------------------------------------------------
Chris H. Lynn is a filmmaker, sound artist, educator, and curator. His digital images and super 8 films capture the subtle rhythms of light, movement, and sound in urban and rural landscapes. His work has been screened in a variety of venues, including the Corcoran Gallery of Art in Washington D.C, the BFI in London (UK), and the Anthology Film Archives in New York City. His sound work- consisting of field recordings, minimal compositions, and audio from his films- has been released on various net labels and compilations.