28 April 2014
Inspired by Flickr: Daniel Barbiero
Submissions for our Inspired by Flickr series are coming in thick and fast, with artists, musicians and designers from around the world picking up the gauntlet and getting stuck into creating a sound piece inspired by one of the million images released by the British Library onto Flickr Commons.
Our third contribution comes from composer Daniel Barbiero who selected a technical illustration from 'A Text-book of Ore and Stone Mining', written by the English geologist and mineralogist Sir Clement le Neve Foster FRS and published by London publishers Charles Griffin & Co. in 1894. Barbiero writes:
The illustration calls for a sound suggestive of drilling, of course, but also of hard surfaces broken up and coming in contact with each other. In an odd bit of convergence a recording I'd recently made of a brush against a ceramic plate, when run through a granular synthesizer, produced a drill-like buzz. That provided a kind of continuo for my piece. The letters labeling the different parts of the apparatus I read as a tone row (using the German names of the notes), which I played on prepared double bass. Each note was bowed with a technique unique to it, creating an overall texture in which pitches were subsumed into abstract sounds. The title was taken from the fragment of text visible with the image.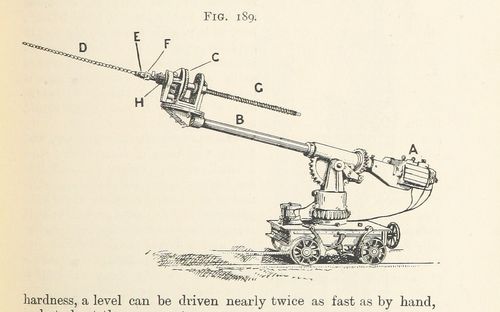 Hardness a level can be driven nearly twice as fast as by hand
Sir Clement, when working on his textbook in the late 19th century, could never have dreamed that one of his drawings would have been brought to life, over a century later, through the creative endeavours of a double bassist. This series, and other imaginative projects encouraged by our Digital Research Team, are breathing new life into these fantastic images and, in doing so, are bringing them to the attention of a completely new generation.
-----------------------------------------------------------------------------------
Daniel Barbiero (1958, New Haven CT) is a double bassist, sound artist and composer in the Washington DC area. He has released work under his own name and with Ictus Records percussionist Andrea Centazzo, Blue Note recording artist Greg Osby, and electronic sound artist Steve Hilmy, among others. In addition to his solo work, he is founder and composer/member of The Subtle Body Transmission Orchestra and a member of the free improvisation trio Colla Parte. He writes frequently on music and is a regular contributor to Avant Music News and Percorsi Musicali.