29 April 2014
New oral history collection: architecture
The King's Library is a magnificent sight familiar to the thousands of people who visit the British Library each day.  Whilst many know its purpose – to house the 65,000 printed books collected by George III – most are unaware of how the King's Library came into existence.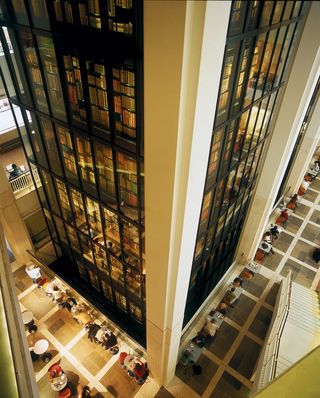 The King's Library Tower at the British Library's St Pancras site, Photo Clive Sherlock
In the following clip, Sir Colin St John Wilson, 'Sandy Wilson', the Library's architect, explores the evolution of the design and construction of the spectacular six floor, glass fronted bookcase that now sits at the heart of the British Library.  
Colin St. John Wilson - The King's Library (03:46)
This clip is taken from an oral history interview with Sir Colin St John Wilson, now available to listen to in full on Architecture, a brand new resource on British Library Sounds. Launched in April 2014, Architecture provides online worldwide access to 84 oral history interviews from the National Life Stories' collection Architects' Lives.
The collection contains recordings of key figures working and teaching in Britain in the 20th and 21st centuries. Open recordings include Hugh Casson's account of his role as Director of Architecture for the Festival of Britain in London in 1951; Michael Wilford recalls starting work as a young architect with James Stirling on the Leicester Engineering Building – a project which was to have an impact on a generation of architects. Edward Cullinan describes form and shadow in drawing and his work with green timber on the Downland Gridshell; and Edward Jones discusses the design and construction of Saïd Business School at the University of Oxford.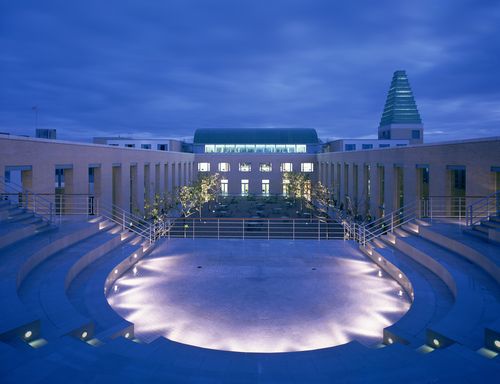 Amphitheatre, Saïd Business School, University of Oxford, 2012
Modernist architect Ernö Goldfinger, whose buildings include Trellick Tower and 2 Willow Road, had died before Architects' Lives was initiated but, in collaboration with the National Trust, NLS has been able to include life stories with family members and several of those who knew and worked with him.
We were delighted Gabi Epstein agreed to make a recording, aged 91, revisiting his early years in Germany when his family commissioned Erich Mendelsohn to design their department store in Duisberg. Epstein came to study at the Architectural Association and later designed Lancaster University, one of the post-war campus universities.
The archive also includes an interview with Denys Lasdun, best known for designing the Royal National Theatre. In the following clip Lasdun describes his response to the critics of the design of the National Theatre.
Denys Lasdun - Answering the critics of the design for the National Theatre, London (03:22)
We are grateful to the Monument Trust for their continued support of Architects' Lives.
Visit http://sounds.bl.uk/Oral-history/Architects-Lives to listen to the full oral history recordings from the Architects' Lives collection.