15 April 2014
Sound & Vision: What Sounds Will You See?
Over the past couple of months Graphic Media Design students from the London College of Communication have been producing coursework inspired by sounds from the British Library collection. The students were given their pick of recordings from the http://sounds.bl.uk site, and asked to produce graphical works in whatever form inspired them, for a project we called (logically enough) 'Sound & Vision'. 
Six of the students' work has been featured on this blog over the past week, and this post rounds things up by reproducing one example of their work from each of the six. The overriding theme is nealty summed up by the slogan devised by one of the students, Natasha Smith, for her project: "What sounds will you see?"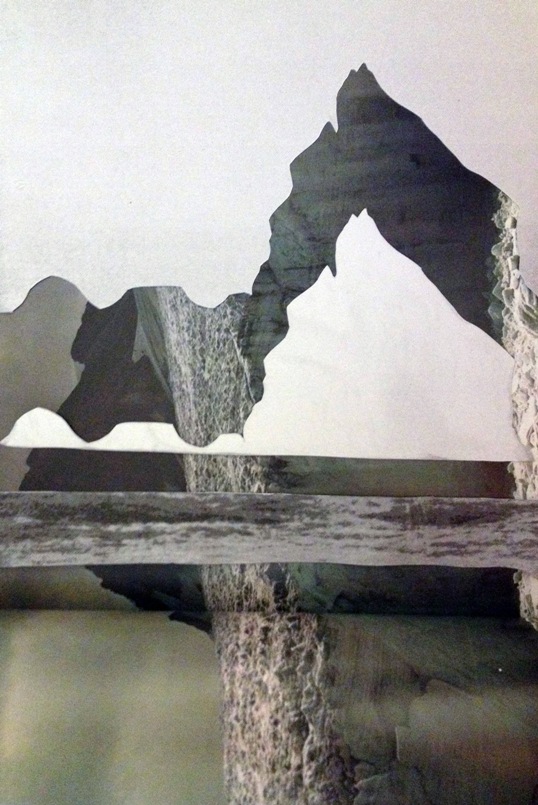 Sanaz Movahedi was inspired sounds of polar exploration, particularly the 1909/10 recordings  'The Discovery of the North Pole by Commander Robert E Peary' and  'Adrift on an Ice Floe in the Arctic Ocean by Sir Wilfred Grenfell', combined with images of ice from the British Library's Flickr pages. She says, "What drew me was the sense of nostalgia these thin black discs clearly held. A grandeur and romanticised past time of men being adventurous, courageous and fearless when the northern hemisphere was still generally unknown." The results are otherworldly, surreal lands calling out to be explored.
See more: http://britishlibrary.typepad.co.uk/sound-and-vision/2014/04/sound-vision-1-sanaz-movahedi.html or visit her project web pages at http://savglaciers.tumblr.com.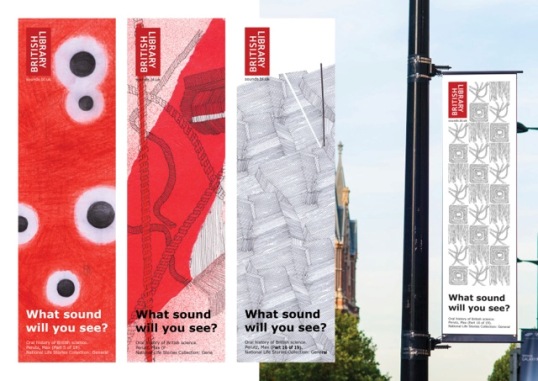 Natasha Smith was drawn to the interviews with molecular biologist and Nobel Prize winner Max Perutz. The themes of his interviews, and the tone of his voice, took her visual imagination in all sorts of interesting directions, the experience of which she can see having wider potential. She says she can "see the British Library holding creative workshops to encourage visitors to listen to and visualise sound for themselves". Her imaginary posters weren't actually hung outside the Library, as the picture above might suggest, but how good it would be if they could be.
See more: http://britishlibrary.typepad.co.uk/sound-and-vision/2014/04/sound-vision-2-natasha-smith.html and see more of her work at http://cargocollective.com/natashasmith.
Marika Samek's piece entitled 'Awaken' was inspired by wildlife sound recordings of her native Poland. Her response to these is expressed through an installation which, in her words, transforms "the organic, clear form of wood and translucent film applied on acrylic into a shimmering world of light, shadow, and brilliant colour. It is a metaphor for how Sound - something assumedly invisible - can integrate with other senses and create beautiful Vision in the form of a vibrant picture." The video highlights the art work, accompanied by the sounds that inspired it.
See more at: http://britishlibrary.typepad.co.uk/sound-and-vision/2014/04/sound-vision-3-marika-samek.html or see more of her work at http://www.marikasamek.eu.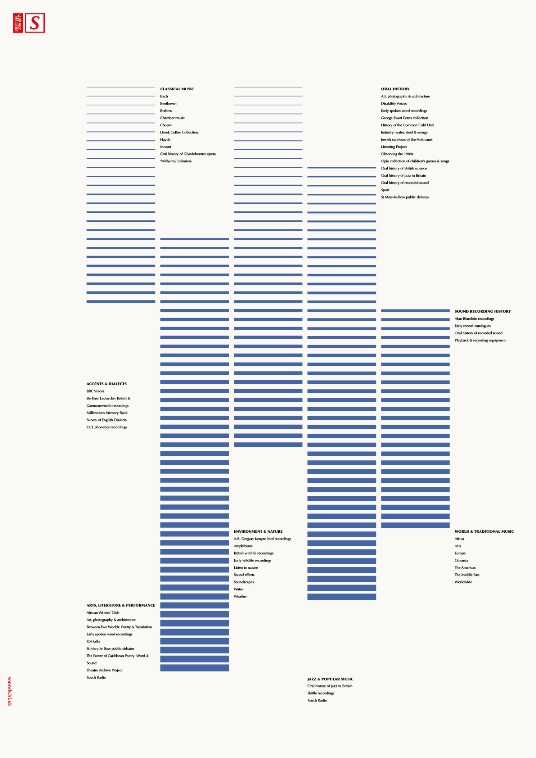 Zongkai Wang took the imaginative step of not being inspired by specific sounds, but by the expression of the sound collection in catalogue form. His visual solution to representing the variety of the sound collection was to express its contents in the form of a grid. As he argues, "Similar to the role of vibration plays in sound generation, a grid system could be a significant aspect in graphic design. Rhythm and tension are produced by arranging the two dimensional spaces in the form of a grid." The striking results, so very different from the traditional look of online catalogues, suggests that graphic designers know more about how to visualise knowledge than librarians may do.
See more at: http://britishlibrary.typepad.co.uk/sound-and-vision/2014/04/sound-vision-4-zongkai-wang.html or see more of his work at http://cargocollective.com/zackwang.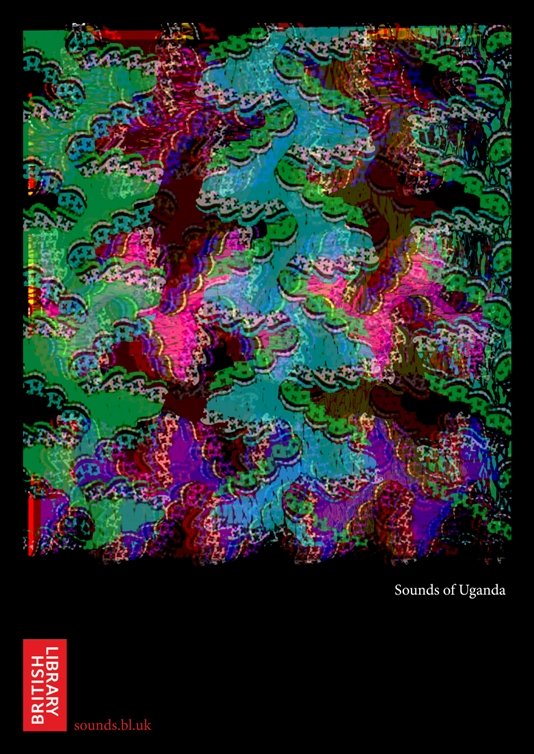 Amine Gebrehawariat was inspired by the World & Traditional Music section of the Sounds website to produce a series of posters that both express and promote the different musical sounds of Acfrican nations, including Uganda, Botswana, Benin and Kenya. He says of his work: "I wanted to show the distinction between sounds from the different countries. Using the patterns, I manipulated them to visualise the beat and rhythm." Amine is interested in working in campaign advertising and he says he can "strongly visualize the posters being placed in public spaces, for example public transportation where they're accessible to a mass audience."
See more at: http://britishlibrary.typepad.co.uk/sound-and-vision/2014/04/sound-vision-5-amine-gebrehawariat.html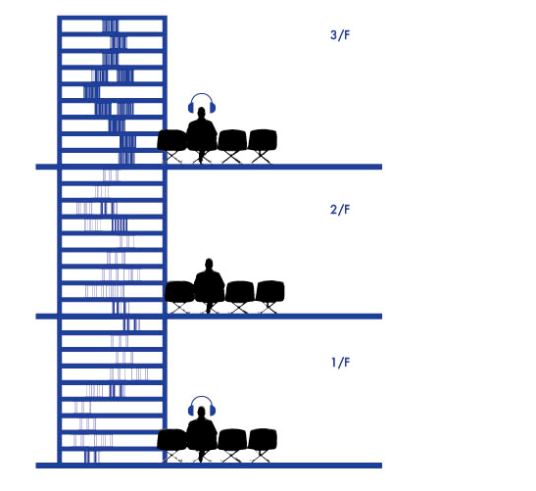 Wai Hon Chan was inspired by the many sounds of water to be found on the Sounds website. He devised ideas for a water soundscape, based on the Tao concept, through which people in urban spaces might be able to programme the sounds of nature via a system of 'water movement cards' to create an harmonious environment. The images depict the stages of how such a 'Waterscape' might be produced while being visually harmonious in themselves. As with some of the others, he is interested in a practical outcome to his graphical interpretations. The British Library could be doing much more to make its sounds heard in public spaces, we are being told.
See more at http://britishlibrary.typepad.co.uk/sound-and-vision/2014/04/sound-vision-6-wai-hon-chan.html or find more of his work at http://cargocollective.com/chanwaihon.
 * * * * * * * * * * * * * * * * * * * * *
It has been really enjoyable working on Sound & Vision. The directions in which the students took the simple brief of creating graphical expressions of whatever inspired them on the Sounds website have surprised, intrigued and indeed inspired us. Around forty students from the course chose to work on the Sounds website idea, and it is particularly pleasing that this is part of their coursework and will help contribute towards their final degree.
The most gratifying aspect has been how each of the students took on the idea of visualising sound with such enthusiasm, and with such a variety of interpretations. We do not have to visualise sounds to appreciate them, but the visuals that sounds inspire can lead us to appreciate them in new ways.
What sounds will you see?