07 May 2014
Inspired by Flickr: Mark Lyken
Albert Bleunard's 19th Century scifi novel, Babylon Electrified, once again finds itself at the centre of our Inspired by Flickr series. The challenge, open to anyone working with sound, is to create a short audio piece inspired by one of the million images released by the British Library onto Flickr Commons. Our first contribution, from sound artist Jay-Dea Lopez, brought to life this tale of using electricity to awaken the ancient city of Babylon and we return once again to its pages with this response from multimedia artist Mark Lyken.
Lyken was drawn to an image of a glowing lantern which evoked memories of a field recording trip to a lighthouse in the Scottish Highlands.
My "Lantern Room" piece is based on this great image from page 228 of "Babylon Electrified" and on my own Lighthouse experience - in this case the Cromarty Lighthouse on the Black Isle in the Scottish Highlands. The Cromarty Lighthouse was decommissioned in 2005 and the lens, generators and all other equipment were removed.
I wanted to capture the oddly musical hum of those absent electrical transformers and generators that I imagined in the old battery room and the crackle of electricity that I heard in my minds eye when I first read the books title. It seemed fitting to use a modular synth, an instrument alive with electricity to generate these sounds. These sounds were layered on top of a recent recording taken inside the empty Lantern Room of the Lighthouse. 
To finish the piece off I came up with a recurring sound that I thought suggested the turning of the lens mechanism and periodic flash of light. I have no idea where a lighthouse figures into the Babylon Electrified story but interpreting the image alone gave me the chance (in my head anyway) to power up and light the Cromarty Lighthouse one last time.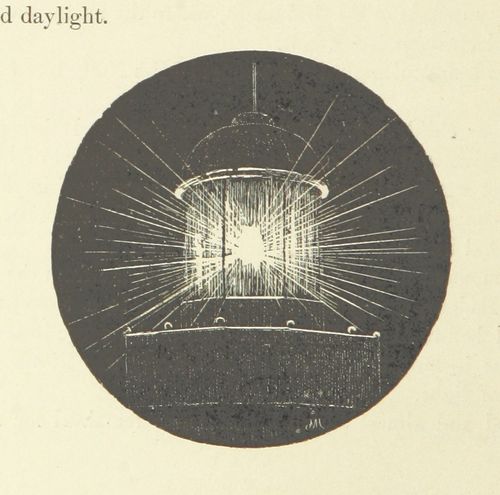 The impact of this simple illustration is twofold: as well as igniting a creative spark in the artist, it also triggered specific memories that ultimately influenced and shaped the final composition heard here. Lantern Room is a subtle response to an image that may well have been lost to the annals of time, together with many others, were it not for the work of our digital research team and the talents of artists like Lyken who have embraced this challenge wholeheartedly and are helping us demonstrate the creative potential of digital content.
-----------------------------------------------------------------------------
Mark Lyken is a multimedia artist based in Glasgow, Scotland. He creates painting, sculpture, film and sound work. His recent work has been concerned with revealing the "musicality" of the environment and beauty within the ordinary. Of particular interest is the relationship between nature and technology and the ways in which digital existence may be reconciled with the "soul" of analogue mediums. Mark regularly collaborates with specialists from different research fields.