23 September 2014
Listening to the radio
We are delighted to be organising a short series of classic BBC radio drama listening events, in partnership with listening event specialists In the Dark, Bournemouth University's Centre for Media History and the Communication and Media Research Institute (CAMRI) at the University of Westminster. At these free events, held at the British Library's Foyle Suite, listeners can enjoy some outstanding archival recordings in a group setting, including Dylan Thomas's Under Milk Wood, Louis MacNiece's The Dark Tower and David Jones's In Parenthesis. Each event will be followed by discussions on their continuing relevance and significance for a contemporary audience.
These listening events are part of the British Library's contribution to the UNESCO World Day for Audiovisual Heritage for 2014. Annually on 27 October, audiovisual archives from around the world put on activities that highlight the vulnerability of the audiovisual heritage and celebrate the work of those heritage institutions that work to protect it.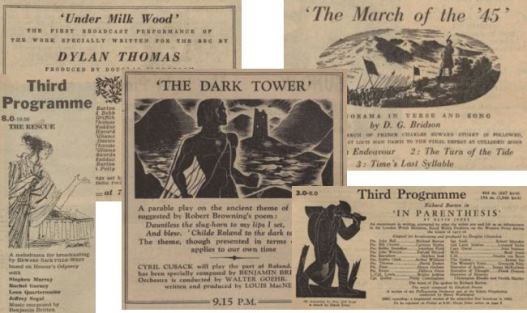 These are the five programmes we will be presenting (please note that all events will begin at 17:15 sharp).
The March of the '45 (1956)
The March of the '45 written by D.G. Bridson and produced by D.G. Bridson and Gordon Gildard was originally broadcast in 1936. Bridson's influential verse drama described the unsuccessful attempt by 'Bonny Prince Charlie' to take the British crown. From his landing in Scotland in 1745 where he rallied the clans to his cause, the 'Young Pretender' marched successfully south into England before turning back to eventual defeat at the Battle of Culloden. At moments in the programme there are voices from the north of England in the 1930s as a way of giving the Jacobite uprising political relevance. Perhaps more than any other example, 'The March of the '45' established the radio feature as a creative genre with distinct characteristics; verse narrative, acted sequences and music to tell a story based on historical fact.
When: Thu 2 Oct 2014, 17.15-19.45 (doors open at 17:00)
Where: Foyle Suite, Centre for Conservation
Price: Free  Book here
In Parenthesis (1955)
In Parenthesis was written by David Jones and produced by Douglas Cleverdon with music by Elisabeth Poston. The cast includes Richard Burton as Private Ball and Dai Greatcoat. David Jones's epic poem about the First World War, In Parenthesis, was published in 1937 to extraordinary critical acclaim; T.S.Eliot called it 'a work of genius' and for W.H. Auden it was 'a masterpiece'. The feature follows Private John Ball as he crosses the channel with his English and Welsh comrades on their way to battle. There are passages which describe the everyday life of soldiers, including the intimacy of male friendship, and others which use myth and legend to reflect more generally on war. The classic radio feature ingredients are all present with verse narration, music, striking sound effects and acting. This is one of the more literary radio features and is full of references to literature, the Bible and Welsh legend. The original broadcast was in 1946 in the very early days of the Third Programme (launched less than two months before).
When: Thu 16 Oct 2014, 17.15-19.45 (doors open at 17:00)
Where: Foyle Suite, Centre for Conservation
Price: Free  Book here
The Rescue (1943)
The Rescue, Edward Sackville-West's 1943 radio dramatisation of part of Homer's Odyssey with music by Benjamin Britten, appears to be the first substantial treatment of Homeric epic on BBC Radio, and also the most enduring (with six further productions to 1988). The collaboration of Sackville-West and Britten on this work resulted a distinctive exploration of the dramatic potential of radio. Further, the close association of words and music suggest a reflective awareness of The Rescue's relationship with ancient epic performance, especially through the character of the bard Phemius. The narrative both resonates with the contemporary international situation and argues for the humanising potential of aesthetic experience.
When: Thu 30 Oct 2014, 17.15-19.45 (doors open at 17:00)
Where: Foyle Suite, Centre for Conservation
Price: Free  Book here
The Dark Tower (1946)
The Dark Tower is one of the most acclaimed creative works written and produced for BBC Radio. The poet, classicist and BBC writer and producer Louis MacNeice (1907-1963) wrote it in the spring and summer of 1945, at the close of the Second World War, and it was first broadcast on 21 January 1946, with many subsequent revivals. Alongside MacNeice's words, an exciting score by Benjamin Britten provided another dimension to the aural experience. The location of the piece in its historical moment is crucial for its interpretation.
When: Thu 13 Nov 2014, 17.15-19.45 (doors open at 17:00)
Where: Foyle Suite, Centre for Conservation
Price: Free  Book here
Under Milk Wood (1954)
The Welsh poet and writer Dylan Thomas (1914-1953) conceived of Under Milk Wood, which he subtitled A Play for Voices, as a piece for performance on radio, although it has also had a vigorous performance life on stage, television and film. In this centenary year of his birth, the play has been much revived. The very first radio production of Under Milk Wood was an immediate success, winning the Prix Italia as well as a rapturous reception both in the press and amongst the 244 listeners individually surveyed by the BBC. Douglas Cleverdon, who had nurtured it during its long gestation, produced it for the Features Department with an all-Welsh cast and it was broadcast on the Third Programme on 25 January 1954. This 94-minute version was repeated several times, and the Home Service broadcast a shortened version later in the same year. 60-minute versions were made for overseas networks and the play was translated into at least eight languages for radio productions across Europe and beyond.
When: Thu 27 Nov 2014, 17.15-19.45 (doors open at 17:00)
Where: Foyle Suite, Centre for Conservation
Price: Free  Book here
There is background information on each of the programme at Bournemouth University's Public Listenings site. We hope that these will be the first in an ongoing series of listening events to be held at the British Library. Look out – or listen out – for news of these in 2015.