16 September 2014
On the Trail of the Polar Bear
Few animals are more synonymous with the Arctic Circle than the Polar Bear. Along with icebergs and intrepid explorers, the Polar Bear is one of the most iconic symbols of the frozen lands of our planet's most northern extremes.
While researching potential sound recordings for the library's upcoming polar exhibition, 'Lines in the Ice: Seeking the Northwest Passage', the Polar Bear obviously came to mind. One of the main themes of the exhibition examines why European explorers have been so drawn to the Arctic, in particular the legendary Sir John Franklin and his ill-fated crew, who disappeared while trying to seek out the fabled Northwest Passage. Explorers are not the only group to have been attracted to this harsh landscape; filmmakers and sound recordists have also been enchanted by the mysteries of the Arctic.
An oral history interview with wildlife sound recordist, Patrick Sellar, recounts an expedition in 1981 to Spitzbergen where he was charged, by no other than David Attenborough, to track down a number of Arctic species in preparation for an incoming BBC film crew.  Equipped with a small boat and armed with his checklist, our fearless recordist set about locating various species. Ice Polygons, Ivory Gull, the Little Auk, all were gradually ticked off the list. All except for one. The Polar Bear.
Patrick Sellar_Spitzbergen and the elusive Polar Bear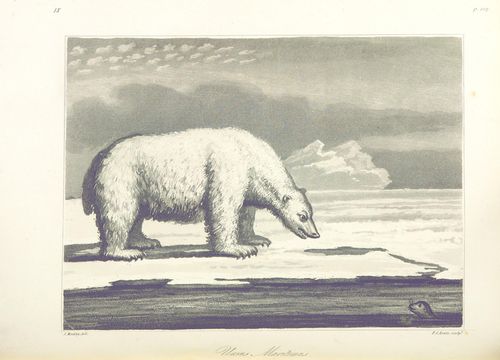 Image from 'Greenland, the adjacent seas, and the North-West Passage to the Pacific Ocean, illustrated in a voyage to Davis's Strait, during the summer of 1817' by Bernard O'Reilly (London, 1818)
Despite his best efforts, Patrick was unable to catch up with the elusive Polar Bear. As with countless others who came before him, the Arctic refused on this occasion to give up its treasures.
The British Library's exhibition 'Lines in the Ice: Seeking the Northwest Passage' opens on 14th November and runs until 29th March. Free entry.