07 October 2014
The Barbara Weinberger Police Interviews collection
Fiona Laird, National Life Stories intern, writes: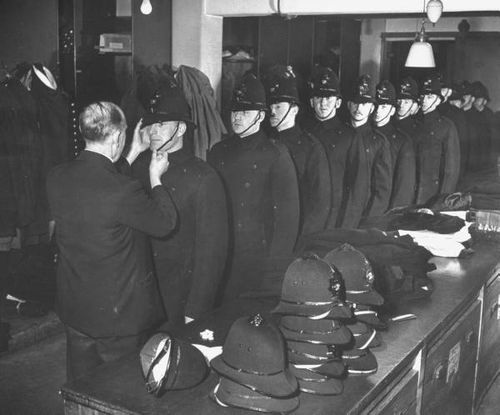 New recruits for London's Metropolitan Police, photo courtesy of Paul Townsend under a CC BY-NC 2.0 license.

As a National Life Stories intern I have been cataloguing the Barbara Weinberger Police Interviews collection. This project consists of 69 interviews conducted by the social historian and writer Barbara Weinberger for her 1995 book The best police in the world: an oral history of English policing from the 1930s to the 1960s (Scolar Press; Aldershot, c1995). Weinberger interviewed police officers from sixteen different forces across England and Wales.
Covering the 1930s to the 1960s, Weinberger captures first-hand accounts of key changes in policing, such as the introduction of female officers, the 1960s Royal Commission, motorisation, and policing during the Second World War. Interviewees are encouraged by Weinberger to draw comparisons and distinctions between county and city police forces; police work before, during, and after the Second World War; and crime rates during their careers and at the time of interviewing in the 1990s.
As oral histories these interviews also provide an insight into the working and social lives of police officers during this period. The effect of being a Freemason on an officer's promotion prospects, the vetting of fiancés before a policeman could marry, and the effect of the career on an officer and their families social and family life for example.
From detailed accounts of bombing in Coventry; through the social politics of being a rural policeman and Second World War undercover work resulting in treason charges; to accounts of the scandalous Sheffield Rhino Whip Affair, the Weinberger interviews have a lot to offer to researchers. Now that this valuable, varied, and fascinating collection is fully catalogued its details and transcripts can be much more easily be accessed through the British Library's sound archive catalogue; search using the collection reference number C684.
I have no doubt that researchers will enjoy using this collection as much as I have enjoyed cataloguing it!