21 November 2014
Jolly chuffed to spend a very hockey sticks weekend in Dulwich village
 Jonnie Robinson, Lead Curator of Spoken English, writes:
Last weekend I went to Dulwich to watch my daughter play hockey, which gave me the opportunity of exploring Dulwich village for the first time. The highlight of a thoroughly pleasant stroll was stumbling across a rather intriguing use of the word chuffed [= 'pleased'] – a term used by millions of speakers of British English on a regular basis. Chalked up on a blackboard inside a wonderful artisan baker's was a sign thanking customers for nominating the proprietors for a local trade award (I hope they win: the bacon bap I had was delicious). The sign declared that the owners were very chuffed to be nominated; an expression that immediately struck me as slightly odd - do people actually say very chuffed? Isn't very somehow just too mainstream to combine with a word like chuffed? Aren't more colloquial intensifiers like really, pretty and so or vernacular forms such as dead chuffed, proper chuffed and well chuffed more natural?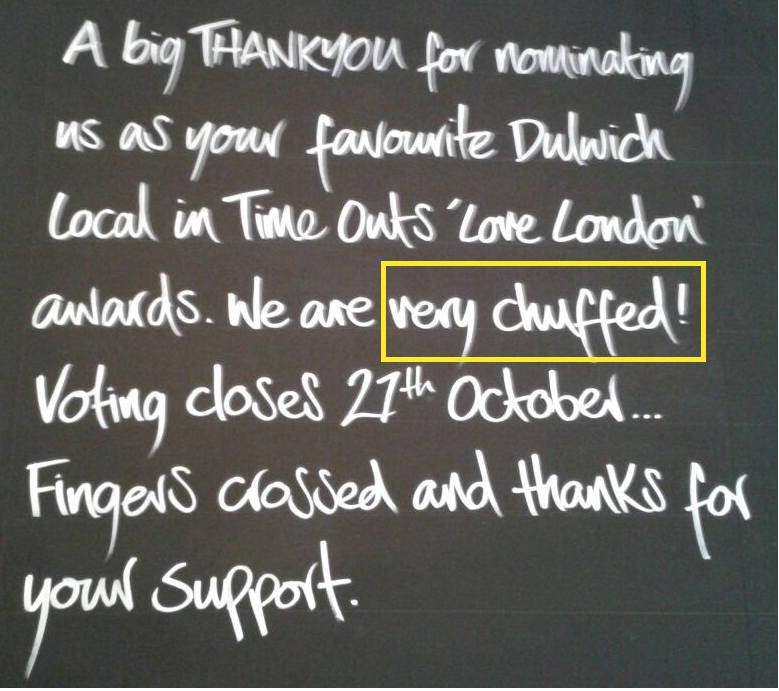 A quick glance at several authoritative reference works seems to confirm my hunch. The entry for chuffed in the Oxford English Dictionary (online edition) includes six citations - the earliest from 1957 - and two examples each of chuffed, pretty chuffed and dead chuffed.  The New Partridge Dictionary of Slang and Unconventional English (2014) agrees with the OED's dating and also includes the following observation:
originally northern English dialect […], adopted by military, then wider society […] often qualified by intensifiers DEAD, REAL, WELL
Both dictionaries include the antonym dischuffed – presumably formed by analogy with pleased/displeased rather than happy/unhappy – and the Dictionary of Contemporary Slang (2014) provides further support for Partridge stating that chuffed:
probably originates in northern English dialect […] and is still most frequently heard in the North and Midlands [...] embellished forms are 'dead chuffed', 'chuffed pink' and 'chuffed to arseholes'
In 2004/5 the BBC Voices survey investigated the words we use for 40 everyday concepts, including the notion PLEASED. Researchers in the British Library's Voices of the UK project are currently compiling an inventory of the terms captured in the study and have thus far catalogued over 100 variants for PLEASED. Apart from pleased itself, chuffed was by far the most common response and certainly seems to have been taken up enthusiastically outside its northern and midland heartland, but as far as I'm aware we haven't encountered many – if indeed any – examples of very chuffed. Plenty of contributors supplied dead chuffed, well chuffed, chuffed to bits, chuffed to naffy break (also in Partridge) and even chuffed to buggery, but not very chuffed. And yet, by extraordinary coincidence this week a contestant on the BBC quiz show Only Connect said he had been very chuffed with his team's performance in the previous round. I dunno - you wait for ages for a very chuffed and all of a sudden two come along at once.
If you'd like to hear any of the numerous  variants for PLEASED just listen to one of the 300 BBC Voices Recordings. From thrilled, delighted, tickled pink, cock-a-hoop and on cloud nine to made-up, thrimmed, over the moon, baktalo (Anglo-Romani for 'happy/lucky') and stoked each gives subtle clues to a speaker's geographic background, age, ethnicity and/or social status.
My daughter's team lost by the way, although in scoring her first goal of the season I suspect she was chuffed and dischuffed in equal measure, but – all things considered –  probably not very chuffed.