15 December 2014
Oral History Curator's Choice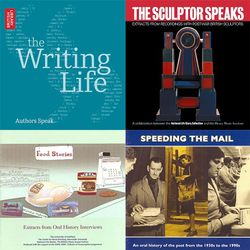 The Oral History Curator's Choice collection on the British Library Sounds website was created earlier in 2014 to provide access to some of the CD publications edited and produced by the Oral History section and National Life Stories between 1990 and 2011 (and all expertly edited by the British Library's Sound & Moving Image Audio Engineers). So far publications concentrating on the Post Office, the British food industry, British fashion, the steel industry, the visual arts, theatre design, and writing are available via BL Sounds. Many of the life story interviews from which the extracts were edited are available in their entirety via the Oral History packages on British Library Sounds, but the aim with this Curator's Choice collection is to provide a curated entry point into the collections, and to make these now out-of-print CDs available.
In the following extract from 'Speeding the mail: an oral history of the Post Office', Seumas McSporran talks about the parcel post on the Isle of Gigha, Scotland, in the 1960s, and unusual deliveries, particularly around Christmas:
Seumas McSporran talks about the parcel post on the Isle of Gigha, Scotland, in the 1960s
The extracts in Curator's Choice can be browsed by subject, by interviewee, and by the original CD on which they were published. As some of the publications were narrated the original extracts have been grouped together into clustered themes, such as for 'Connecting Lines' and 'The Writing Life'. In the following screen grab you can see how the notes feature on British Library Sounds can be used to add information about the content of the extract at a specific point in the recording.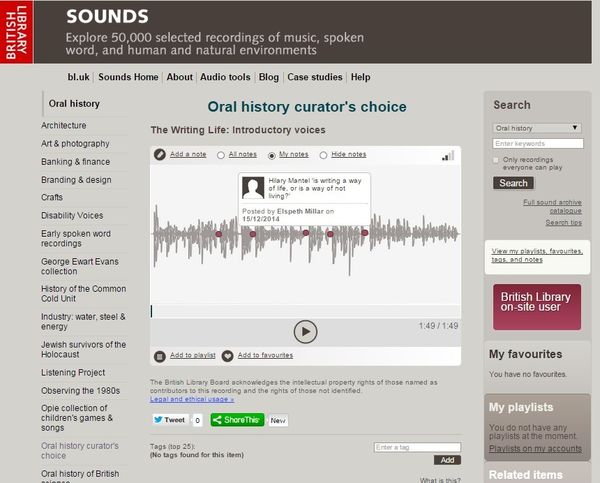 The British Library Sounds website (http://sounds.bl.uk) now has 60,000 sound tracks, all freely available for listening online. It represents the most diverse online collection of scholarly sounds anywhere, and also has other interactive features, such as the option to tag and 'favourite' tracks, and to create personalised playlists. These features can be enabled by registering at https://sounds.bl.uk/Account/Register.  Please do register and add your notes to other Curator's Choice tracks.