08 April 2015
Probably not on Spotify: Balsam Flex cassettes
As a sound archivist charged with developing the spoken-word collections, I keep at the back of my mind a list of commercially issued records and tapes that for one reason or another were not added to the British Library's collection at the time of publication
Even key historical items such as the rare 'Allen Ginsberg Reading at Better Books' LP, for example, issued in an edition of just 100 copies in 1965, were often missed by our collectors first time round (though we have a copy now).
A decade or two on, the various productions of the obscure cassette label Balsam Flex also failed to register on our faulty radar, with only one or two of the dozens of published titles making it into the Library's collection.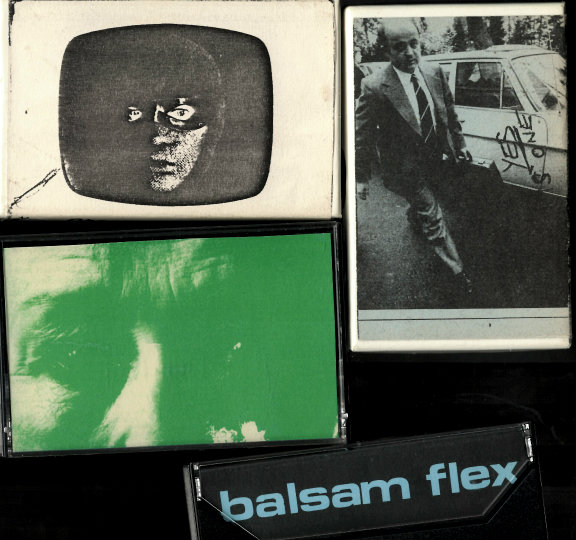 I am therefore pleased to report that poet Allen Fisher has generously donated to the British Library his personal treasure trove of 35 Balsam Flex cassettes - almost all of which have hitherto proved impossible to track down - with the promise of more to come if he can find them.
The Balsam Flex label was run by artist E. E. Vonna-Michell from an address in South West London, and was active in the late 1970s and early 1980s.
The artists featured were drawn largely from the UK's experimental poetry, performance and sound art scenes, and along with Allen Fisher and Vonna-Michell himself included Henri Chopin, Bob Cobbing, Peter Finch, Lawrence Upton, cris cheek, Ulli McCarthy (aka Ulli Freer) and the less familiar names Alice Blommer, Tumla Nitnelav and Yurine Burns.
Information on the label being scarce I am grateful to Dr Will Montgomery of Royal Holloway, University of London, for allowing me to see a draft of his article 'Balsam Flex: Cassette Culture and Poetry', which is to be published by Palgrave Macmilllan as part of the book Modernist Legacies: Trends and Faultlines in British Poetry Today.
The article provides an indispensable overview of Vonna-Michell and the artists he worked with (many of whom had roots in Bob Cobbing's Writers Forum group) and a wealth of contextual references to contemporaneous cassette labels and poetry journals.
Montgomery writes that Vonna-Michell once 'sent a length of rusty exhaust pipe placed cactus-like in a plant-pot to the British Library for cataloguing as a book'.
Dismayingly, it seems the Library failed to rise to the challenge, as I could not find this item in the catalogue.
Allen Fisher's collection of Balsam Flex cassettes will eventually be catalogued and digitized and made available for listening on request in the Reading Rooms. The service is free but you will need a Reader Pass and you may need to book an appointment.
In the meantime, Allen has kindly given permission for the Library to post an excerpt from his piece The Art of Flight, recorded by Chris Carter at the COUM/THROBBING GRISTLE STUDIOS in 1976, and originally issued on cassette by Balsam Flex.
This is section eight, titled: 
        End of middle and last section of
              THE ART OF FLIGHT VI
        three into four voices      
              phase shifted
Listen to an excerpt from The Art of Flight
With thanks to Allen Fisher and Will Montgomery.