12 May 2015
Oh, how we laughed! Early performance recordings from the Bishop Sound collection
A guest post by Rob Smith, post-graduate student in Library and Information Studies at UCL, who has recently been researching the Bishop Sound collection.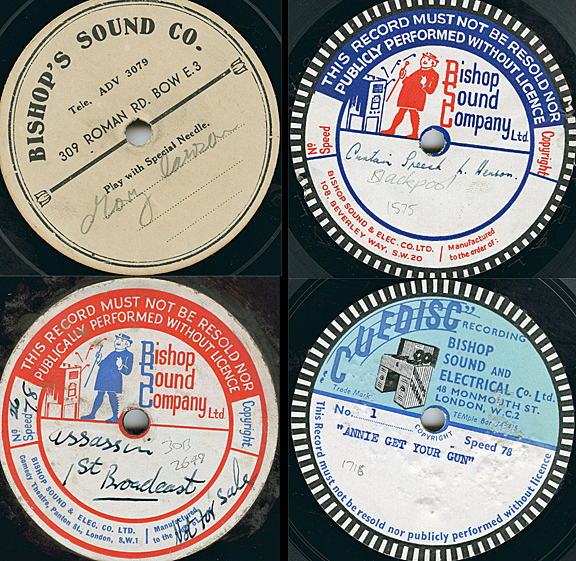 Recent activity in the British Library Sound Archive has involved digitising the Bishop Sound collection - a unique collection of lacquer disc records. The collection contains a broad range of material (some further examples are discussed in this earlier post) but the recorded performances of musical comedy hits from the 1930s and 1940s are of particular interest.
Lacquer disc technology was only introduced into the UK around 1934 and the earliest of these recordings made by the Bishop Sound and Electrical Company comes from 1937. Although no direct evidence exists, there appears to have been a strong working relationship between Jack Bishop of Bishop Sound and Firth Shephard - a popular impresario and theatre producer during that era. Bishop started working with Shephard on an early but hugely successful production called The Frog (1936) and their collaboration continued with productions of Going Greek (1937), Wild Oats (1938), and Running Riot (1938). Recordings for all but The Frog have been identified. 
Unfortunately none of these recorded performances are complete but they do contain excerpts that exemplify the style of popular performance from the time. This is an excerpt from Going Greek starring Leslie Henson - a comedy that follows the trials and tribulations of a group of bandits after they have taken an opera singer hostage. It gives you strong idea of the sort of humour found in these productions.
Listen to an excerpt from Going Greek
Bishop also formed associations with other celebrities of the day such as Ivor Novello. Discovered in the collection were recordings of Novello's Arc de Triomphe (1943) and Perchance to Dream (1947). Incredibly both of these recordings have survived (mostly intact) and contain rare performances of songs such as 'Paris Reminds Me of You', 'Dark Music', and "We'll Gather Lilacs'. 
One of the issues that arose out of the digitisation of the discs was identifying and sequencing the recordings. Little information came from the discs themselves so it was necessary to perform an investigation that drew on other significant resources found online and in the British Library. 
After identifying the plays from names or characters mentioned on the recordings, playscripts in the Lord Chamberlain's Plays collection were consulted in order to sequence the transfers, based on the dialogue and songs. 
The Lord Chamberlain's Office issued the legal license necessary to perform plays in the United Kingdom between 1824 and 1968. To receive a license, a copy of the playscript had to be submitted to the Lord Chamberlain's Office. The Office was the official censor of all performed material. 
What was also discovered while sequencing the recordings to the playscript was how much the comedians and actors ad-libbed and nuanced their performances. This final excerpt, while brief, was un-scripted and presents a comedic reaction to the regulations that restricted what a performance could present.
Listen to another excerpt from Going Greek
These recent transfers are yet another example of the importance of audio preservation. It gives researchers and enthusiasts alike a deeper understanding of their chosen subject and gives us a unique glimpse into a past that could otherwise be forgotten.
If these issues interest you, please follow the Library's Save our Sounds campaign.