10 July 2015
Recording discovered of 1938 world premiere performance of Britten Piano Concerto
For his first appearance at the Proms, the twenty-four year old Benjamin Britten gave the premiere of his Piano Concerto Op. 13 on 11th August 1938.  He was joined by the BBC Symphony Orchestra and Henry Wood.  However, Britten was not happy with the third movement, originally titled Recitative and Aria, so he revised it in 1945 replacing it with an Impromptu.  The first performance of the new version was given by his friend Noel Mewton-Wood at the Cheltenham Festival in July 1946.
 Following the world premiere in 1938 at the Queen's Hall the critic of the Times wrote:
 'This is the most important work the composer has written, though it still fails to fulfil entirely the promise of his obvious talent.  That Britten has a remarkable mastery of technical resources has been evident for some time, and this concerto fully confirms that impression.  The writing for both pianoforte and the orchestra is brilliant and effective.  The form, too, in which the work is cast is original without being obscure, even as the harmony is "contemporary" without being unintelligible at a first hearing.  Indeed, the clarity of both form and texture is the best feature of the work.'
The critic complained of satire breaking in too often leaving the listener to wonder when the composer was actually being serious.
'It is the content that raises doubts concerning the real merit of the work that surely aspires to a higher status than a clever jeu d'esprit…..is the end of the third movement, which is rather commonplace in its romanticism, meant seriously, or is the composer's tongue still in his cheek, as it is during the first part of the movement?'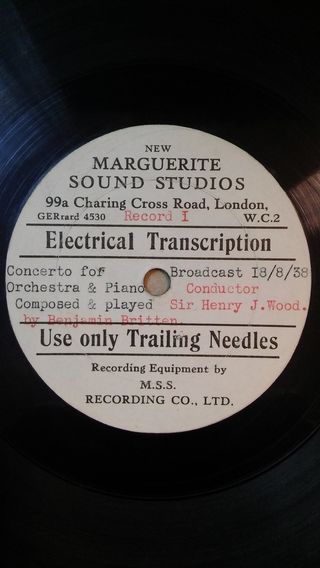 The 1938 world premiere was broadcast by the BBC but no known recording of the performance was made at the time.  Recently however, the British Library was contacted by Alex Kersley and her brother John whose father was Leo Kersley, a friend of Britten and Pears.  He had discs of the live broadcast that were professionally made by New Marguerite Sound Studios of 99a Charing Cross Road.  The discs were transferred to digital files at the British Library Conservation Centre.  This important historical document of nearly 80 years ago can be heard complete in the Humanities reading rooms of the British Library though Soundserver.