11 August 2015
Conference Report: Performing the Archive, Galway, 2015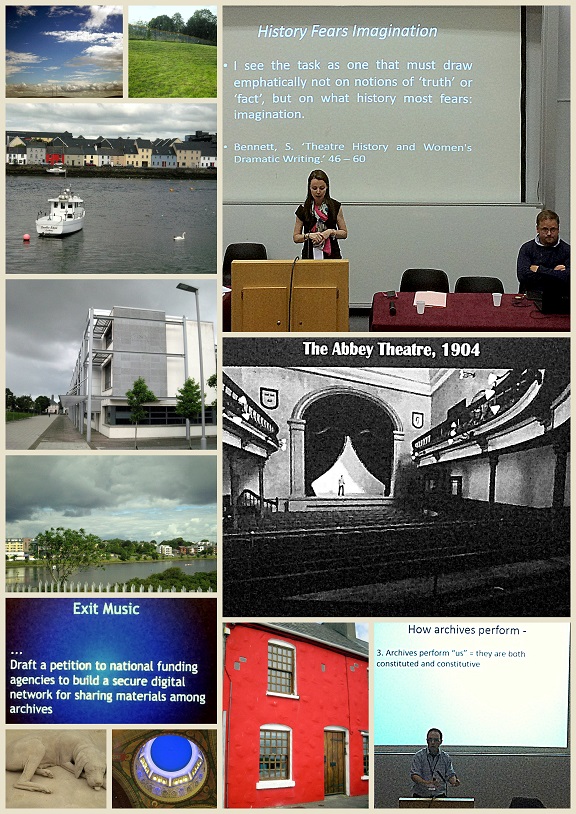 I have just returned from the 'Performing the Archive' conference at the National University of Ireland in Galway, 22-24 July.  
This was an international conference on performance archives attended by delegates from European countries and the United States: most of them archivists, academics, artists and/or PhD students working with archives.
The three-day programme contained six plenary panels and six concurrent sessions with papers on 25 different topics, which, multiplied by three speakers per session, made a total of 75 papers presented. See programme.

The venue was the Arts Millennium Building, with the evening receptions held at the James Hardiman Library, both modern spaces conveniently close to our student accommodation campus in Corrib Village.
I only have space to mention just a few highlights:
Lost Theatres and their Digital Remains
Various discussions were dedicated to two of the most prominent theatres in the history of Dublin: the Abbey Theatre, considered to be Ireland's national theatre; and the (fourth) Theatre Royal, which had a capacity of 4000 seats and was reputedly the biggest theatre in Europe.
The Abbey Theatre has an ongoing archive online digitisation project consisting  so far of over a million items of audio, video, photographs, scripts, set designs, posters, documents, and oral history interviews with actors, writers, directors and staff from the Abbey.
In addition, both theatres are being digitally reconstructed with the use of 3D digital technologies by Hugh Denard and his team of Trinity College, Dublin.  Read more.
Complementing these two online resources is the 'Playography Ireland' site, which combines two comprehensive databases of new Irish plays produced professionally since 1904.

Holding a Mirror Up to Nature and Society
Next year Ireland celebrates the centenary of the 1916 Easter Rising which has been described as 'the foundational myth of the modern Irish state' in 'the war of independence against Britain (1919 - 1921) and the creation of the Irish Free State'. See, for example, Professor David Reynolds's recent article in New Statesman.

Much questioning has gone into the sources for building memory and historiography and in anticipation of the coming commemorations, part of the conference focused on voices absent from the archives, with an emphasis on women and queer histories.
Particularly relevant were two papers: one by Ciara Conway and the other by Miriam Haughton, both of National University of Ireland, Galway.
Professor Tracy Davis of Northwestern University in Evanston, Illinois  presented a paper on the manuscript diaries of Frederick Chesson, in her words 'a diary of nobody', to bring attention to 'the matrix' of Victorian diaries and their importance for the writing of history. 
Considering theatre as a mirror and microcosm of society, Professor Patrick Lonergan of National University of Ireland, Galway, presented a paper on gender and how theatres perform in society based on his research at the Abbey Theatre archives, including an interesting example of the imbalance in the number of toilets provided for men and women!
Creativity and Archives
There was also a focus on creative ways of seeing archived materials and conceiving dynamic alternatives of engagement.
For example Blake Morris spoke of The Walk Exchange a collaborative project which develops public educational and creative walks, in which the participants are invited to think about the urban as a text.
Theatre practitioners using archives who spoke included playwright and researcher Jenny Roggers; playwright and journalist Colin Murphy, who spoke about his 2010 play Guarantee; theatre director Louise Lowe of ANU Productions, who talked about PALS: The Irish at Gallipoli; Paula McFetridge, Artistic Director of Kabosh Productions, who has worked on several projects in Belfast; and Joan Sheehy of Limerick City of Culture, who talked about The Colleen Bawn Trials.
Tanya Dean of National University of Ireland, Galway, presented a paper on positive ways of seeing theatre which is not live but yet exclusive as 'something other than performance', such as the NT Live initiative of London's National Theatre.
Overall this was a very stimulating three days, efficiently organized by Charlotte McIvor and her colleagues. Conferences like this always give me lots of food for thought for many months to come. A big thank you to everybody who made this conference possible.