Seiber's own collection of recordings donated by his daughter Julia Seiber Boyd,  the Matyas Seiber collection, has been digitised and put on line on BL Sounds.
Mátyás György Seiber (1905-1960) was born in Budapest where he studied composition with Zoltan Kodály and cello with Adolf Shiffer at the Budapest Academy of Music. From the late 1920s he taught in Frankfurt where his classes in jazz were the first of its kind. He left Germany in 1933 and settled in England in 1935 where he worked as a freelance writer and did various jobs including writing music for films. In 1942 Michael Tippett offered him a teaching post at Morley College where during this decade he was a founder of the Society for New Music with Francis Chagrin, and the Dorian Singers.
Seiber wrote in many different forms including opera, ballet, songs and chamber music; he also wrote much incidental music for radio, television and film productions. Most of his finest works are represented in his collection of discs.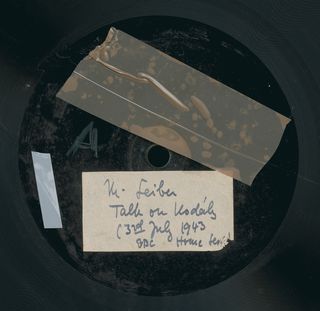 Some of these recordings are in poor condition being more than eighty years old, but they are unique and of great historical interest as Seiber recorded many of the broadcast first performances of his works.  Some important BBC talks from the early 1940s survive here including part of one on his teacher Zoltan Kodaly in 1943.  This is a glass disc coated with cellulose nitrate that was broken into three pieces.
A seven part series Composing With Twelve Notes was broadcast in 1952. Seiber's Second String Quartet (1934-35) uses Schoenberg's serial techniques and can be heard here in the first UK broadcast from 1957. The cantata Ulysses written in 1946-47 is given in a performance with Peter Pears as soloist while the incidental music for Faust, a radio play from 1949 by Louis MacNeice based on Goethe, comes from the recording session discs. The Cantata Secularis (1949-51) based on Virgil, survives here in the first broadcast performance from 1955 with Walter Goehr and the BBC Symphony Orchestra.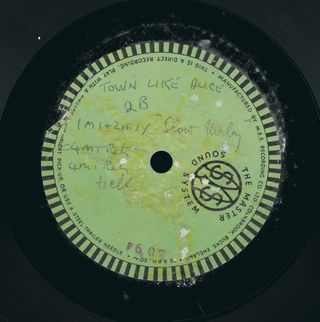 In addition to incidental music for radio plays, Seiber also wrote film scores including A Town like Alice, the 1956 Rank film starring Peter Finch and Virginia McKenna.
Seiber's interest in jazz and blues is evident as there are recordings (mostly copies of commercial discs) of the great blues singers Josh White and Leadbelly. Seiber probably used these in his research for writing incidental music as there are also recordings by folk song collectors Alan Lomax and A.L. Lloyd. One early disc from his time in Germany is of Seiber playing various forms of jazz-influenced dance styles – ragtime, Argentine tango, slow fox-trot and Charleston,while the earliest dated recordings come from South West German radio in 1932.