19 October 2015
British Library captures the largest ever snapshot of the nation's recorded audio heritage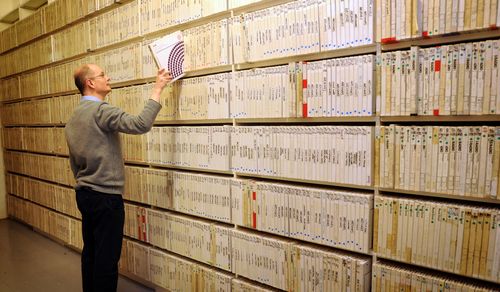 The British Library is home to the nation's sound archive: a collection of more than 6.5 million recordings dating back to the birth of recorded sound in the late 19th century and held on over 40 different types of discs, tapes and other formats.
Global professional consensus is that we have fifteen years in which to digitise these historic sound recordings before they risk disappearing, as the means of playing them disappear from production and some materials begin to decay naturally.
In January this year the British Library launched Save our Sounds, a major programme aiming to preserve the nation's sound heritage, looking not only at sounds in the national collections, but at the wider picture across the UK.
To kick-start the programme, we set out to conduct a National Audit of the UK's Sound Collections. Over a five-month period we asked libraries, archives, record companies, and individual collectors to come forward and tell us what kinds of material they had in their archives, their condition, which formats they were held on and the recordings they contained.
A snapshot of the results
The results make up the largest ever snapshot of the UK's sound heritage: we gathered information on over 1.8 million recordings held in over 3,000 collections and 400 different locations across the UK.
Mirroring the challenges facing the British Library's sound archive, many of the sounds around the UK are held on formats which need to be digitised in the next 15 years. A staggering 78% of the recordings surveyed are held on formats which are vulnerable to technological obsolescence, such as shellac discs, DAT tape and some early digital formats. Over half of all the collections were reported as having no digital copies. 
The collections represent a wealth of cultural memory: over three quarters were reported to contain rare or unique recordings.
What kinds of sounds were identified?
There is a wide variety in terms of the kind of collections identified in the audit, ranging from major collections to small focused collections of local significance.
400 institutions, societies, associations, trusts, companies and individual collectors took part in the National Audit. Examples include: 
Doc Rowe Archive Collection: Internationally significant archive of British folk life, lore and cultural tradition featuring 12,000 recordings.
Jem Finer Collection: The personal collection of the musician, sound artist and founding member of The Pogues, Jem Finer. Includes 9,000 items many of which are unique personal recordings or works in progress.
Vaughan Williams Memorial Library Collection at Cecil Sharp House: An internationally significant collection containing 10,000 folk and traditional music recordings including rare and unique field recordings and private recordings by noted folk musicians and composers.
Delia Derbyshire Archive: 267 tapes covering Derbyshire's time as a composer at the BBC's ground-breaking Radiophonic Workshop between 1962 and 1973.
Essex Record Office Traditional Music Archive: 1,000 recordings of traditional and folk music played by Essex musicians or performed at Essex venues.
The Rambert Archive: 800 recordings created by the Rambert Dance Company through the process of the work the company produce.
Manchester Jewish Museum Archive: 716 recordings from the early 1970s onwards containing interviews providing unique anecdotal evidence of the mass migration of Eastern European Jews in the late 19th and early 20th centuries.
University of Reading Special Collections, James & Elizabeth Knowlson Collection: 290 recordings relating to the life and work of Samuel Beckett.
Centre for Wildlife Conservation, University of Cumbria: Underwater hydrophone recordings made in the waters surrounding Shetland including recordings of killer whales (Orcinus orca) and Risso's dolphins (Grampus griseus).
Canterbury Cathedral Archives: Recordings of events at Canterbury Cathedral from the 1950s onwards, including services for past Archbishops' enthronements, Lambeth conferences and choral evensong; performances of children's operas and choral music by J.S. Bach, Britten and others.
What next?
We have been delighted by the range and volume of responses to the National Audit of the UK's Sound Collections run by the British Library. While the results are not comprehensive, they provide the largest ever snapshot of the wealth of audio heritage materials held in archives across the country.
We will be working closely with the contributors to identify the most at-risk collections, to share preservation knowledge, and to grow a network of audio preservationists. The data and findings will also be used to inform the British Library's Save our Sounds programme which, as well as drawing attention to at-risk sounds, aims to to celebrate the UK's sound heritage and raise awareness of this treasure trove of living history held in archives across the country.
From 2017, thanks to £9.5 million of earmarked funding from the Heritage Lottery Fund, we'll digitise and publish online up to 500,000 rare and unique sounds from the Library's own collections and those around the UK which are most at risk.
We'll also work with partner institutions to develop a national preservation network via ten regional centres of archival excellence which will digitise, preserve and share the unique audio heritage found in their local area.
The Directory and a summary report on our findings are available on the Directory of UK Sound Collections project page. Please support us by tweeting #SaveOur Sounds and follow our own digitisation process on @SoundHeritage.