30 November 2015
Voices of Science – Winner of the Royal Historical Society's Public History Prize for Web & Digital
National Life Stories are thrilled to announce that they have won the Royal Historical Society's Public History Prize for Web and Digital for the Voices of Science web resource.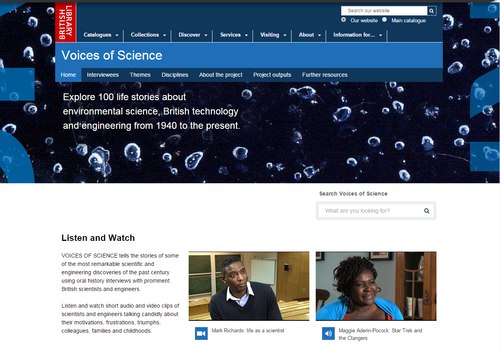 The Voices of Science website presents clips from approximately 100 recordings from the oral history collections at the British Library, primarily the 'Oral History of British Science' initiative made between 2009-2013.  Voices of Science tells the stories of some of the most remarkable scientific and engineering discoveries of the past century using oral history interviews with prominent British scientists and engineers.  Scientists talk candidly about their motivations, frustrations and triumphs, as well as their colleagues, families and childhoods. They reflect on how new instruments and techniques have changed the way they work and how fluctuations in government policy and media interest have reshaped how they spend their time.  
Computer engineer David 'Dai' Edwards recalls setting up the Manchester Mark I computer for Alan Turing and others
Aeronautical engineer Denis Higton recalls an unconventional route into scientific work at the Royal Aircraft Establishment
Space engineer Maggie Aderin-Pocock discusses the origin of interest in space and the influence of television programmes 'The Clangers' and 'Star Trek'
Voices of Science also provides links to the full unedited interviews and transcripts available to all worldwide at British Library Sounds . Personal biographies, photographs and links provide context for each scientist's life and work. All the digital interviews, averaging 10-15 hours in length, have been archived in perpetuity at the British Library.
The judges of the award said:-
"This website provides rich materials for understanding the practice of twentieth-century science in a historical manner. The interviews themselves are fascinating; they are greatly enhanced by the interpretative material that is also provided on the site, encouraging users to reflect on major themes, including the role of gender in science, and the practice of oral history. The site is beautifully organised, providing not just valuable sources but tools for reflecting on them. It offers a way into a major field of history that makes it fully accessible to those with little or no previous knowledge of the history of science."
Members of the 'Oral History of British Science' team Dr Rob Perks, Dr Sally Horrocks, Dr Thomas Lean and Stephanie Baxter accepted the award from Amanda Vickery at a reception at University College London last Friday evening.
The Voices of Science website involved colleagues around the British Library and this prize recognises the huge amount of hard work and enthusiasm which went into it.  National Life Stories would like to say thank you to all of them.
Full details about the award can be found here.