In January this year, my colleague Stephen Cleary and I, hosted two sessions to introduce the Sound Archive to a group of our Knowledge Quarter neighbours: students from Central Saint Martins, University of the Arts, London, all studying the Foundation Diploma in Graphic and Communication Design, which is run by Lucy Alexander and Tim Meara.
The agenda of the day included a display selection of collection items and a listening session. The idea was to inspire a creative design response to the Library's audio collections.
The British Library Sound Archive contains 6.5 million audio recordings from all over the world, on around 42 different physical formats. These cover the entire range of recorded sound, from every kind of music to drama and literature, oral history and wildlife and environmental sounds, stretching back more than 100 years, to the beginning of sound recording.  As you can imagine, there is plenty to choose from for a show-and-tell. 
The most popular showcased items proved to be:
Roamin' in the Gloamin' by Harry Lauder (1870-1950), a blue celluloid cylinder, first released as a black celluloid cylinder in 1911, when Lauder was reportedly the highest-paid performer in the world.
The first luminescent phonograph cylinder record, The Ghosts of Effingham by Michael Esposito and Carl Michael von Hausswolff (2010), which comes with an mp3 download.
Trevor Jackson's Format (2015), a boxed set 'album' comprised of 12 tracks each in different media format: 12" vinyl; 10" vinyl; 7" vinyl; CD; MiniCD; cassette; USB; VHS; MiniDisc; DAT; 8-track cartridge; and 10" open reel tape.
Two weeks later, we were invited to view an exhibition of the 120 finished publications that resulted from the students' visit. It was presented at the Lethaby Gallery at Central Saint Martins, Granary Square. The Gallery was crowded but we managed to take a few pictures to give an idea of the students' admirable achievements.
With thanks to Lucy and Tim at Central Saint Martins, and to the students for their bright and stimulating response.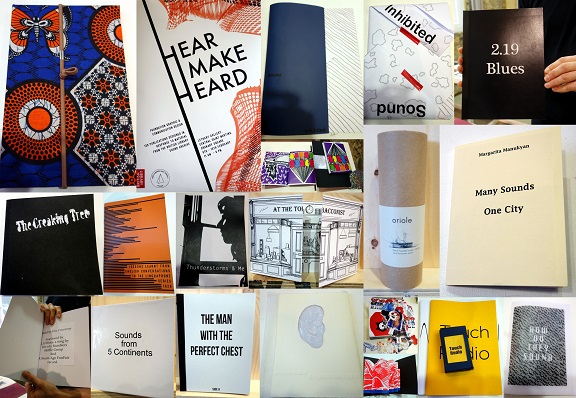 Central Saint Martins students' works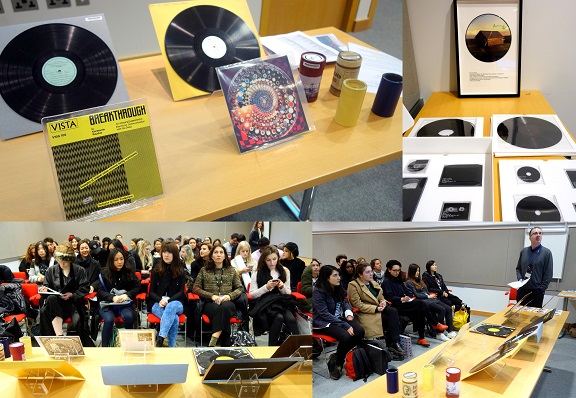 At the British Library
Find more about the British Library's Drama and Literature Recordings and keep up with our activities on @BL_DramaSound
Read about the British Library's Sound Archive preservation programme to digitise the nation's rare and unique sound recordings at Save Our Sounds programme #SaveOurSounds.