04 March 2016
What does 'place poetry' look and sound like in the 21st century?
Last Friday the British Library hosted 'Beyond Bounds: Britain Re-Presented in Poetry', a performance of poetry readings by Anthony Joseph, Kayo Chingonyi, Jay Bernard and Vahni Capildeo.
The reading was followed by a discussion about the idea of place poetry in the 21st century.
None of the poets settled for a particular meaning of place. Perhaps because they are all well-travelled and have lived in a myriad of locations.  At one point in the discussion Anthony Joseph said 'place is in the mind' and 'home is where you want to be'. Vahni Capildeo told us that her heart belongs to Glasgow. Kayo Chingonyi talked about how London is a place that sucks you into itself. And Jay Bernard made it clear in her reading that place can be a whole made up thing which doesn't even have to exist.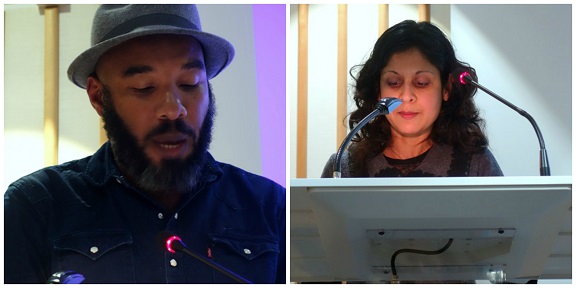 Anthony Joseph reading from the anthology Out of Bounds / Vahni Capildeo reading from Measures of Expatriation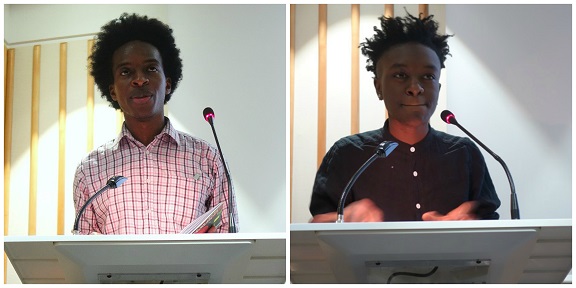 Kayo Chingonyi reading from The Color of James Brown's Scream / Jay Bernard reading from The Red and Yellow Nothing.
The event marked the beginning of a 10-month series of complementary poetry events/activities which will take place all over the British Isles. It launched the Out of Bounds Poetry Project, which is administered by the Universities of Stirling and Newcastle and funded by the AHRC. The project is a follow-up from the poetry anthology Out of Bounds. British Black and Asian Poets (2012), edited by Jackie Kay, James Procter and Gemma Robinson, who is also one of the project leaders.
The Out of Bounds Poetry Project will generate online digital resources which will allow both poets and public to have a say on place poetry. More about this in a future post. All the audio material generated by the project will be archived by the British Library.
Overall the event was injected with humour and provocation. You can listen to the audio recording of the event in the Library's reading rooms (BL reference C1717/1).
Listen to Anthony Joseph_The Ark [excerpt]
The British Library's sound collection is growing by 4000 recordings every month.  Access to collection items is either by appointment through the Listening and Viewing Service, or through the Sound & Moving Image Catalogue (at the Library premises only). Selected recordings are available to listen to online.
Find more about the British Library's Drama and Literature Recordings and keep up with our activities on @BL_DramaSound.
Read about the British Library's Sound Archive preservation programme to digitise the nation's rare and unique sound recordings at Save Our Sounds programme and #SaveOurSounds.