08 April 2016
Contemporary British performance: Natasha Davis interview
The British Library's new Contemporary British Collections department has launched its own web page, illustrated with a banner image featuring artist Natasha Davis performing her show Internal Terrains at Chelsea Theatre, London 2013.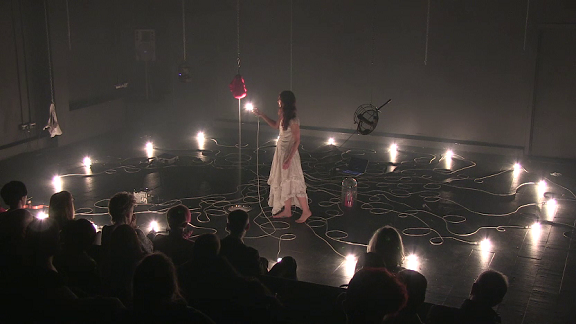 Internal Terrains, Chelsea Theatre 2013. Video available to view at the British Library.
The show was videoed for the Library's live theatre recordings archive as part of the Chelsea Theatre's sixth Sacred season of live art and contemporary performance.
Natasha Davis is a Croatian-born British artist based in London. Her work addresses issues of identity, cultural memory, migration and body through performance. She also works with archive materials, creating installations and engaging with audiences by organizing workshops on the theme of personal stories.
To provide some context to the image Natasha has kindly let us use for our website, I asked her some questions last November 2015 via email about the show, her work and her thoughts on performance.
1) Could you please say something about Internal Terrains?
Internal Terrains explores identity and situations in life when identity may be at stake or be seriously challenged for different reasons. It is structured around the decades of life and looks at the past, present and the ways we might perceive the future. It puts personal histories in a political and historical context and focuses more specifically on stories around migration.
The performance uses film, installations, original sound and text. As is usual in my work, the objects and installations I create are 'interdisciplinary'. Each one is an independent, often mixed-media work of art, which adds to the layers of meaning of the performance.

In addition, there is a continuous soundscape created in collaboration with composer Bob Karper, who has made original music and sound for all my performances so far. The sound relates on a deep level to the subjects explored and the materials used to make installations and objects, and occasionally overlaps with sonic effects created by me live on stage.
2) How does Internal Terrains relate to your previous trilogy of solo works?
The trilogy of Rupture, Asphyxia and Suspended investigated the impact of the trauma of enforced migration on the body and memory. Rupture was about the nature and materiality of endurance against the decay of the body and decay of the land, in this case due to a civil war. I conducted research for Asphyxia, the second part of the trilogy, in South America at high altitude where it was literally difficult to breathe. I experimented with stretching the boundaries of what a body can do under such conditions to explore metaphorically the situations in life when we feel out of breath. The final piece in the trilogy, Suspended, was focused on the state of being in between or out of balance as a fertile place and made the audience share the performance space with me. All three pieces examine how migratory identity is shaped and preserved and ask: If dust ever settles on the past, does grass grow over it?
Internal Terrains capitalizes on the concepts of repetitive returns to the past, the fragmentary nature of our memory and the feeling of being off balance, which were central to the trilogy, however this time the starting point is not the body of the performer but objects. I am interested in the mnemonic power of objects, the specific associations they bring to mind and what these may mean to a migrant. The whole set of Internal Terrains is an object: an installation, consisting of twenty cables spreading out of a dimmer, with a light bulb at the end of each cable, demarcating an imaginary home on stage. The objects hanging from chains in that setting reside in their own shadows, like our memories do, until I start interacting with them. If we also think of the objects as imaginary rooms in a home, they provide access to architectures of memory, in this case common to people who have had to cross borders and move between homes a lot in their lives.
The trilogy paid close attention to time and the temporal aspect of migration, while Internal Terrains, due to the nature of its exploration of home and belonging through objects, extended this to include space and made me consider mise-en-scène in new ways and perhaps more cinematically. This way of working asked for precise attention to the relationships evolving between the various layers, such as objects, sound, film and text, rather than the layers themselves describing, clarifying or adding to the material generated in and from the body.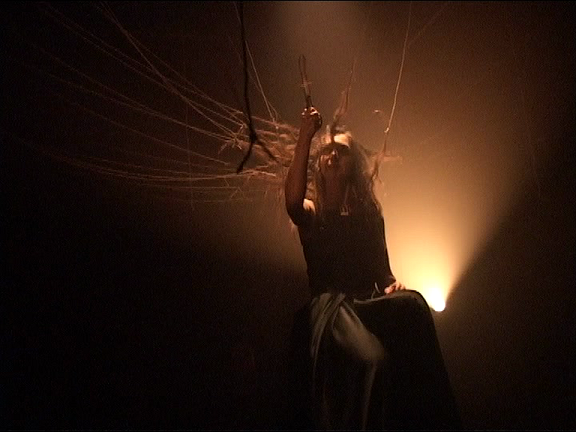 Suspended, Chelsea Theatre 2010. Third solo show performed by the artist as part of her trilogy on body identity and migration. Video available to view at the British Library.
3) Your performances explore body, memory and identity. Do you have a view on how performance transmits cultural memory and identity?
As a site of resistance and a site from where one can speak out, performance can offer an empowering space for sharing memories. If the sharing and exchanges with the audience in the performance space are emphatic and meaningful, they can contribute to resolving painful memories – in the performer and the audience alike. I believe that performing (traumatic) memories can be a powerful way to reinsert the ability to take an active role in the process of the (re)construction of the self on the personal and collective level.
4) What does contemporary performance offer that other mediums may not?
In a recent article I wrote for Performance Research, with Yana Meerzon, amongst other things we talk about how, through a 'theatrical encounter with an artist repeating and experiencing anew personal states of imbalance and displacement, an audience member, who may or may not have experienced such a condition themselves, can approximate the pain of the other'. If we think of the body as a site of memory and accept that embodied, autobiographical knowledge can be mapped through telling of the stories, such performative encounters can become communal acts that we can map and work through, individually and collectively, to gain better understanding of ourselves and each other.
Performance art as a form has often provided a home for marginalized women's, queer, non-white and other underprivileged voices to stage their personal material that carries political and representational value. Through my practice I aim to contribute to the existing body of practical and critical work that offers this possibility by using performance art, practice-as-research and autobiographical material to speak as a migrant voice, as a person displaced by a civil war, who is living and making work about it at a time of unprecedented migration. In that way, through reflecting on current issues, performance material can - and I strive for this - offer a democratic space to engage actively, poetically, personally and politically with the current, complex political present.
5) What are you working on at the moment?
I am beginning to make a new multi-media cross-disciplinary performance Fifty Rooms about the spaces and times in life between breaking and repairing, about ageing and about being 'infected' – the latter could be with new ideas, with utopian dreams and resolutions or with a surge of newcomers in the space that otherwise 'belongs' to others. The performance will also explore ideas of home, belonging and in-between spaces within three categories: house-body-island. In this project, in addition to my regular key collaborators Bob Karper (sound), Lucy Cash (choreography) and Marty Langthorne (lighting), I will also work with a martial arts choreographer, a stem-cell scientist and a bio-identical hormones specialist. I am beginning to develop it in Melbourne in March with an Australian-based dramaturge Alyson Campbell and with support from the Arts Council and British Council. I am also planning to create an immersive sound and film installation to accompany this piece.
In the meantime I am presenting a series of talks and workshops in Canada in January (Ottawa, Montreal and Toronto) and in Prague in April. My latest performance Teeth Show is going to South Africa in February (Rhodes University, Grahamstown), Melbourne in March (VCA) and then Sydney (the Creative Practice Lab at UNSW).  Internal Terrains is going to Warwick University, Coventry in January and to Theatre Works, Melbourne as part of the biannual festival of live art in Melbourne. It's busy, in a wonderful way!
Find more about the British Library's Drama and Literature Recordings and keep up with our activities on @BL_DramaSound
Read about the British Library's Sound Archive preservation programme to digitise the nation's rare and unique sound recordings at Save Our Sounds programme and #SaveOurSounds.