18 April 2016
Shakespeare and the Nightingale
The works of Shakespeare contain many references to the sounds of the natural world, whether that be the ominous notes of a Raven in Henry VI or the "tu-whit, to-who" of a Tawny Owl in Love's Labour's Lost. 
One bird that appears in several of Shakespeare's plays and poems is the Nightingale (Luscinia megarhynchos). A source of inspiration for writers and poets across the ages, this small, plain-looking bird is best known for its exquisite voice that can often be heard just as other birds are starting to fall silent for the night. The Nightingale was once a common summer visitor to the British countryside, so it's likely that its beautiful song would have been a familiar sound to Shakespeare and his contemporaries.
In A Midsummer Night's Dream, the fairy queen Titania commands her subjects to sing her to sleep before commencing their nocturnal duties. The fairies call on the Philomel, a colloquial name for the Nightingale, to use his sweet tunes to send their queen to sleep:
Philomel, with melody
Sing in our sweet lullaby;
Lulla, lulla, lullaby, lulla, lulla, lullaby:
Never harm,
Nor spell nor charm,
Come our lovely lady nigh;
So good night, with lullaby.
A Midsummer Night's Dream ( 2:2 663-669)
Once asleep, the fairy king Oberon squeezes the juice of a magical flower onto Titania's closed eyelids that will make her fall in love with the first living thing she sees upon waking, which just so happens to be the donkey-headed Bottom.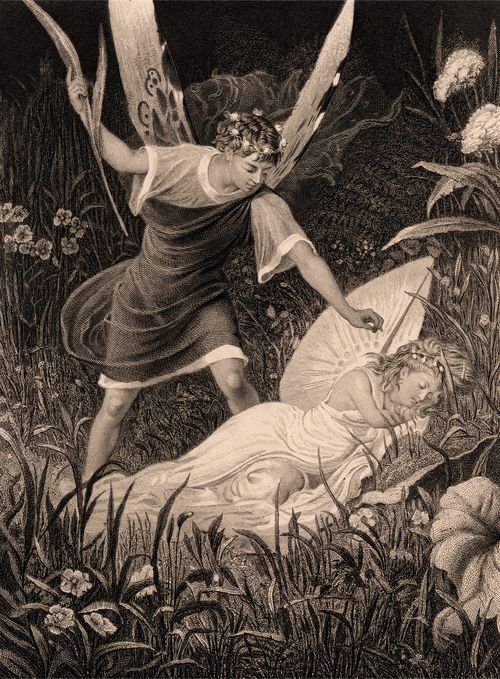 Charles Mottram, 1807–1876, Oberon and Titania - "Midsummer Night's Dream", Act II, Scene II, Engraving, Yale Center for British Art, Paul Mellon Fund
In the Taming of the Shrew, the fortune-seeking Petruchio is determined to win over the strong-willed Kate by countering her insults with compliments:
I'll attend her here
And woo her with some spirit when she comes.
Say that she rail; why then I'll tell her plain
She sings as sweetly as a nightingale.

Taming of the Shrew (2:1 1013-1016)
Taming of the Shrew, Katherine and Petruchio, graphic, J.D.L. Courtesy of the Folger Shakespeare Library. 
The Nightingale makes another appearance in Shakespeare's romantic tragedy Romeo and Juliet. The morning after their secret marriage, Juliet tries to persuade Romeo not to leave by saying that the birdsong they heard came from a Nightingale and not a lark announcing the break of day:
Wilt thou be gone? It is not yet near day.
It was the nightingale, and not the lark,
That pierced the fearful hollow of thine ear.
Nightly she sings on yon pomegranate tree.
Believe me, love, it was the nightingale.
Romeo and Juliet (3:5 2098-2102)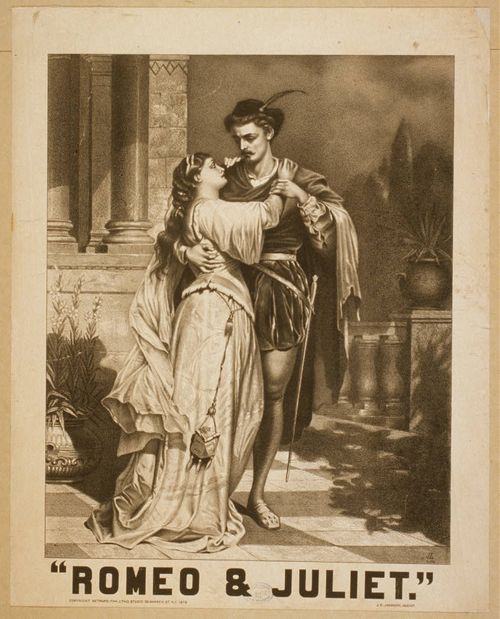 Poster advertising Shakespeare's play, Romeo and Juliet. Signed J.L. Lith. Library of Congress.
Just as the writers of the past endeavored to celebrate the magnificent song of this little bird through the written word, so the sound recordists of today try to do the same with sound.  Here is just one of our many recordings of a singing Nightingale, recorded in an English forest in the early hours of an April morning in 2008 by Phil Riddett. A sweet lullaby indeed. 
Nightingale song recorded in Kent 2008 by Phil Riddett
-----------------------------------------------------------------------------------------------------------
The British Library's current exhibition Shakespeare in Ten Acts is a landmark exhibition on the performances that made an icon, charting Shakespeare's constant reinvention across the centuries and is open until Tuesday 6th September 2016.