The British Library's free punk exhibition is now open in the Entrance Hall. As well as books, journals, punk fanzines, and vinyl records from the collections of the British Library, we have borrowed a number of key items from the counterculture archive collections at Liverpool John Moores University (LJMU), as well as selected rare items from individuals.
Colin Fallows,  Professor of Sound and Visual Arts at LJMU, was part of a curatorial team of three that also included British Library Curator of Popular Music, Andy Linehan, and me.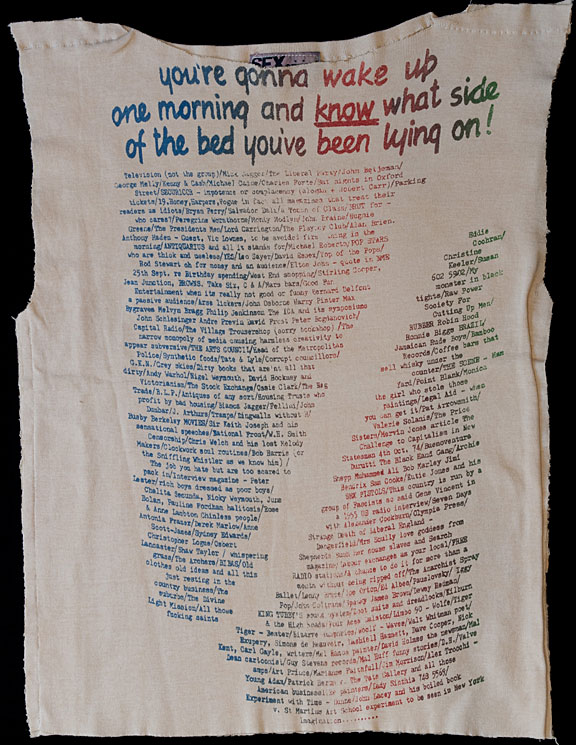 The T-shirt pictured above is a key exhibit. It was created by Bernard Rhodes, Malcolm McLaren, Vivienne Westwood and Gerry Goldstein circa 1974 and sold from the shop SEX, at 430 King's Road, Chelsea.
This example is on loan from a collection at LJMU called 'The Situationist International: John McCready Archive'.
Bernard Rhodes came up with the concept, which may have taken it's cue from painter and writer Wyndham Lewis's Blast manifestos of 60 years earlier.
In the left hand column we find listed those cultural figures and phenomena not considered relevant or culturally vital (we are invited to assume):

and on the right-hand side, the good guys, like musicians Archie Shepp and John Coltrane: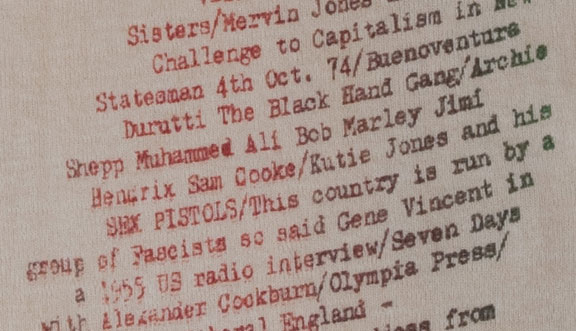 This was also possibly the earliest mention of the band then known (briefly) as Kutie Jones and his Sex Pistols.
Bernard Rhodes went on to manage the Clash and was also involved at various times with Subway Sect, the Specials and Dexy's Midnight Runners.
As one of the prime instigators of the punk rock revolution of the 70s it is only fitting that Bernard should be the opening speaker for our summer of punk-related events.
If you are in London on Friday 27 May, come along and hear from the man who started it all. 
Images courtesy Liverpool John Moores University Special Collections and Archives.
Item ref.: JMS/O/000008 'The Situationist International: John McCready Archive'.

With thanks to Professor Colin Fallows.