02 June 2016
Archival Ingredients: cooking up a documentary for Radio 4's The Food Programme
You might think that being involved in the making of Radio 4's The Food Programme is a glamorous gig… and it certainly felt that way! After months of enthusing about the British Library's oral history archives, contributing clips to episodes of The Food Programme and searching ever deeper into the food archives, we had so much material that we began to craft a full episode dedicated to food in the archives. Our programme came together under the knowledgeable direction of producer Clare Salisbury. As the broadcast date approached we whizzed around with Clare and her microphone visiting butchers, chefs, restauranteurs and food-entrepreneurs playing them extracts that we'd uncovered in the British Library's sound archive and hearing their stories in return. 
In particular we were focusing on an archive that is rich in intimate, biographical stories and provides a unique way of recording the rapid changes in food consumption and production within living memory. Housed at the British Library, Food: From Source to Salespoint is a collection within National Life Stories which holds nearly 300 life story interviews with individuals involved in the food industry. The interviewees worked in sectors as diverse as animal slaughter, national food-retail and restaurants.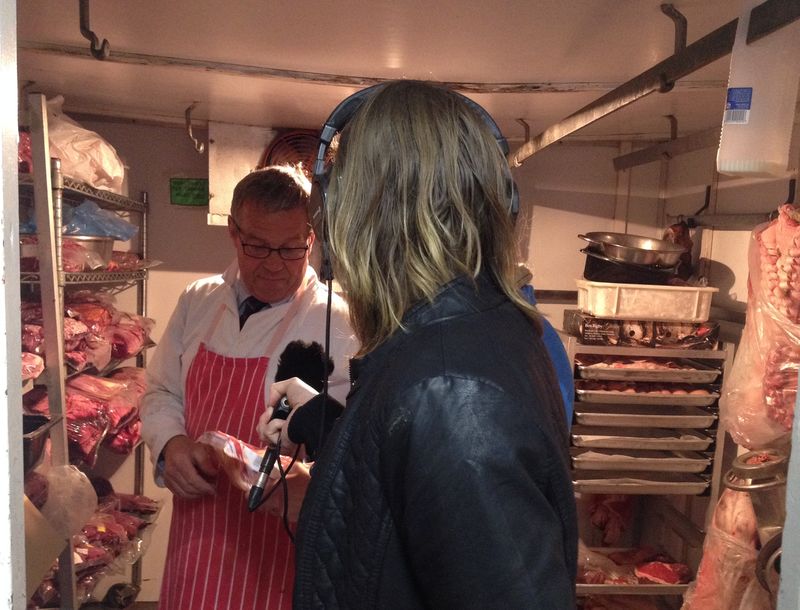 Image: Interviewing Paul Langley in the chiller. Cramer's butchers shop on York Way, London. Photo: Barley Blyton
The seed for this programme was realising that the archives had made us acutely aware of changes in our own city (London), and had brought these dramatic shifts to life. For instance, surfacing from the tube at Kings Cross we now imagined the traffic replaced with cattle being driven up the same roads to market. Shopping in Brixton would conjure the accounts of butcher Ron Stedman describing the high street, as he recounts popping out for a 'six-penny-worth of broken eggs' in the 1930s. Food: From Source to Salespoint has interviews with food producers around the UK: from the North of Scotland to the South coast.
The broadcast of this programme coincides with 120 of these food industry interviews being made available online - that's nearly 1000 hours of stories - and for the first time they are accessible to listen to from anywhere! Just follow this link: http://sounds.bl.uk/Oral-history/Food
We wanted to know how those working in the food industry today felt about some of these changes and also to introduce them to this unique record of the food industry being preserved at the British Library.
In just one week we chewed the fat with Ashley Palmer Watts, head chef at Heston Blumenthal's Dinner, discussed food and philosophies of happiness with one of the world's most influential restauranteurs Alan Yau OBE, (renowned for ventures such as Wagamama, Hakasan and Park Chinois) and enjoyed tea and serenity with Sally Clarke at her Notting Hill restaurant where she has been for over 30 years. We also returned to Cramer's butchers shop on York Way in North London whose doors have been open for 100 years. Both Phillip Cramer and his butcher's boy Paul Langley who now owns Cramer's were recorded for the archive more than fifteen years ago:
To give you a 'taster' of what we played from the archives, this is a clip from Micheline starred chef Shaun Hill, talking about the early 1970s when he worked at a restaurant called The Gay Hussar in Soho:
Shaun Hill talks about working at The Gay Hussar in the 1970s

Shaun's interview is a brilliant example of how these life stories can capture a changing industry, but also the changing attitudes of a population within the span of a single career. I wonder what today's clientele of the Walnut Tree near Abergavenny (where Shaun still cooks) would make of carp with a pike's head?
There are now 120 recordings now available on British Library Sounds. For more clips just click here: http://sounds.bl.uk/Oral-history/Food. Tune in on June 5th at 12.32 to hear more of 'An Archive for Food' on BBC Radio 4. 
Barley Blyton and Polly Russell 
Barley and Polly held the inaugural National Life Stories Goodison Fellowship in 2015 for their project Food Matters