24 June 2016
Fourth of July punk special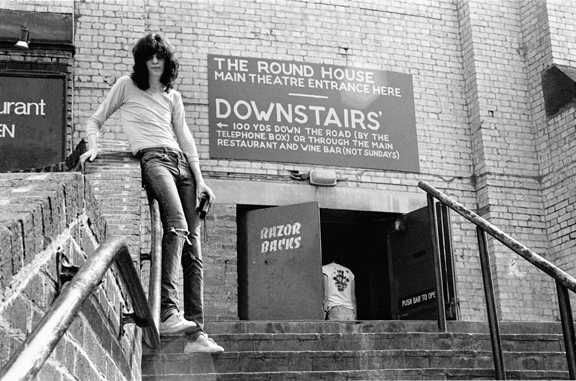 On 4 July 2016 it will be 40 years since influential New York punk band the Ramones played their first gig in Britain, just up the road from the British Library, at the Roundhouse, Chalk Farm.
The photo above, taken by Ramones manager Danny Fields, shows lead singer Joey Ramone outside the venue.
The Roundhouse was built in 1847 by the London and North Western Railway as a turning yard for trains, although it didn't serve this purpose for long. For 90 years or so, from 1864, it was used by Gilbey's Gin as a warehouse. Then, from 1964, it became a performing arts centre, hosting new theatre work by Arnold Wesker, Peter Brook and the Living Theater, and concerts featuring underground rock bands, including, in 1968, the only UK performances by the Doors.
Which is where Danny Fields comes in....
In 1966, despite a less-than-wonderful relationship with lead singer Jim Morrison, Danny had been instrumental in the Doors' signing to Elektra Records. He went on to manage the Stooges, the Modern Lovers, and - for a brief period - Lou Reed, and negotiated record deals for the MC5 and Nico, respectively.
Notice that all these artists figure among the select group that arguably paved the way for 70s punk music in some way. Certainly, at least, they were respected by the artists and followers of the new scene.
By 1976, finger on the pulse as ever, Danny was managing the premier US punk band, the Ramones.
There is a lot more to Danny's career in music than the few points listed above, so, if you can, why not come along to the British Library Punk 1976-78 event on 4 July and hear the man himself in conversation?
It's a rare opportunity and should be a great night. We will also be presenting a special preview screening of the brand new documentary film by Brendan Toller Danny Says. 
Photo of Joey Ramone © Danny Fields. My Ramones by Danny Fields is published by First Third Books.