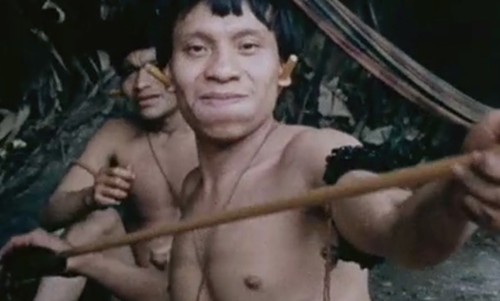 Fierce People, BBC Horizon tx. 1 November 1971
Superb stuff from Adam Curtis - The Medium and the Message, not just one of the best blogs out there but a pioneering and innovative combination of documentary, archive and web publishing that is showing one way television could change in a multimedia world:
http://www.bbc.co.uk/blogs/adamcurtis/2010/03/guinea_pigs_up_the_creek.html
Here he looks at the different ways in which BBC documentaries have portrayed the Yanomamo people of Brazil and Venezuela (supposedly models for Avatar's Na'vi) according to the temper of the times.
In 1968 they are drug experimenters seen as both corrupted by the world and incorruptible
In 1971 they are shrewd, cunning and highly political
In 1972 they just lie around all day in an idyllic state
In 1977 they are in a continuous state of tension, driven by their genes
In 1983 schoolchildren sing about how they worship animals and trees
In 1989 they are the perfect subject for rock musicians singing about the rainforest (Donna Summer, Iggy Pop, Ringo Starr...)
In 1997 they are the remnants of a shaman civilisation
"In all these examples we in the West - both scientists and TV producers - are projecting our ideas and our dreams and our fears onto the Yanomamo. But the Yanomamo are not just passive in this. Each time they seem to work out what the westerners want and then give it back to them perfectly. Or, as in the case of [anthropologist Napoleon] Chagnon they play with him and trick him in funny ways.
Which makes you wonder. Maybe they are just as sophisticated as us in the west? Or maybe even more so?"
All with the usual telling clips.
More on what Curtis is doing with The Medium and the Message in a future post.