Holly Gilbert writes:
Join us on Monday 12 October at the British Library Conference Centre to reflect on the first three years of the Listening Project: an audio archive of conversations recorded by the BBC in which people are invited to share an intimate conversation with a close friend or relative.
These one-to-one conversations, modelled on the US StoryCorps project, last up to an hour and take a topic of the speakers' choice, collectively forming a picture of our lives and relationships today. The conversations so far gathered cover a huge range of life experiences told from the perspective of the people who have lived them, from birth to death and everything in between. The collection currently consists of 650 conversations made by contributors from 7 to 101 years old, recorded in all four corners of the UK and includes people who have moved here from across the globe.
The conversations can be listened to in full on the Library's Sounds website while the edited BBC radio programmes are available on the BBC Listening Project website.
The event includes a panel discussion chaired by presenter Fi Glover in which BBC producers reflect on the process of making the recordings and the impact of broadcasting excerpts, Listening Project participants discuss their experience of contributing to the collection and library curators and researchers explore the potential for using the online Listening Project archive for a variety of research purposes as it continues to grow.
The Listening Project booth will be making a stop at the Library especially for the event as part of its nationwide tour.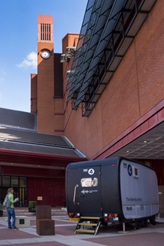 Tickets are free and can be booked via the British Library Box Office.
Workshop Programme
Monday 12 October 2015, British Library Conference Centre
10:30               Arrival: tea & coffee
11:00 – 11:20  Welcome & Introduction
11:20 – 12:45  Using the Listening Project Archive
Professor Joanna Bornat (Faculty of Health & Social Care, Open University and an editor of Oral History Journal)
Dr Natalie Braber (Department of English, Culture & Media, Nottingham Trent University)
Linda Ingham (Visual Artist-Curator, Conversations with my Mother, a book-work installation as part of the Shifting Subjects exhibition)
12:45               Lunch (not provided)
14:00 - 15:00 Creating the Listening Project Archive
Panel discussion with BBC Listening Project producers chaired by Fi Glover
15:00 - 15:30   Tea & coffee
15:30 - 16.30   Taking part in the Listening Project
Panel discussion with Listening Project participants chaired by Fi Glover
16:30                           Close