An interesting talk was given last week by the curator of the BL's philatelic collection David Beech, in which he talked about 'philately' as opposed to 'stamp collecting'; the point being that postage stamps and other postal artefacts can be seen as a research resource providing a fruitful source of information about the times and circumstances in which they were issued. The BL has a large and extremely valuable collection of philatelic items http://bit.ly/cR7u6R, second only to the collection of HM the Queen. There are some 8 million items in all, and there are numerous examples of stamps featuring sport and sporting events; and most particularly the Olympic Games.
Some are wonderfully colourful like the Stockholm Games stamp of 1912: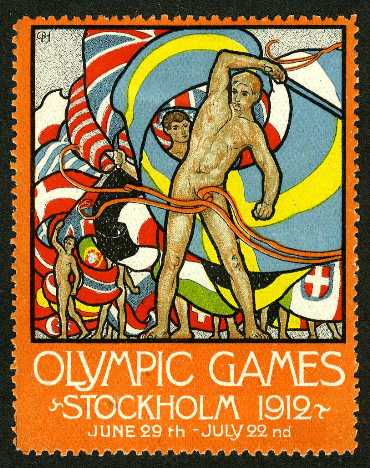 Some are of great historical interest, such as the 1936 Berlin Olympics stamp which shows a runner with an Olympic torch (1936 being the first time the use of a torch was introduced into the Games):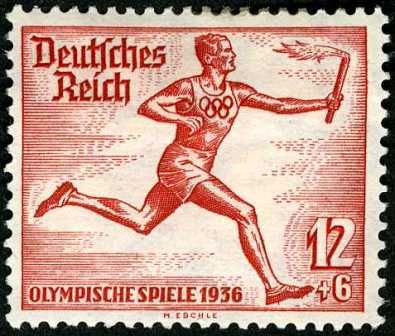 Another set of stamps are real curiosities in that they depict a Games which never actually took place - the Berlin Olympics of 1916 which was prevented by the First World War: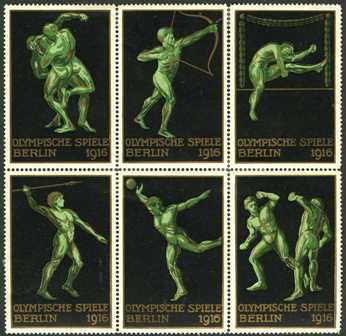 The IOC has always taken a great interest in the stamps produced to commemorate the Olympics, and has a web page devoted to these and other memorabilia http://bit.ly/9oA8tb. It tells us that the issuing and sale of special stamps in 1895 made it possible for the Organising Committee to balance its Athens Olympics budget and construct the last four venues for the events themselves. As the IOC describes it:
Those Olympic stamps were the first sports stamps, the father of them all. Today, for each Olympic Games, the host nation's postal administration has an extensive stamp and philatelic programme, and nations participating at the Olympic Games are encouraged to issue a set of stamps. Typically, about 100 nations issue Olympic stamps for the Olympic Summer Games, and about 40 nations issue stamps for the Olympic Winter Games.
Collectors of such stamps have formed a global association called the International Federation of Olympic Philatelists (FIPO) which caters specifically for devotees of this sort of material and who eagerly await the issue of stamps for the winter and summer Olympic Games.