23 January 2014
St Pancras Intelligencer no. 2
Welcome to edition number two of the St Pancras Intelligencer, our weekly round-up of news about news - stories about news production, publications, apps, digitised resources, events and what is happening with the newspaper collection (and other news collections) at the British Library.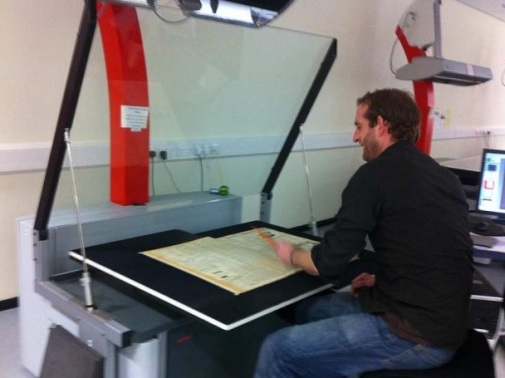 The first newspapers are digitised at Boston Spa: The DC Thomson Family History newspaper digitisation studio has moved from Colindale to Boston Spa in Yorkshire and is busy once again digitising British Library newspapers for the British Newspaper Archive. The BNA blog has behind-the-scenes photos (well, two).
Firing Tony Gallagher is a big mistake: The big news story of the week about British newspapers was the sacking of Telegraph editor Tony Gallagher. Roy Greenslade worries that the drive towards all things digital is being done at the expense of tried and tested journalistic understanding.
Cambridge spies - the Burgess tape: News coup of the week - or at least archival news coup - went to Professor Stewart Purvis and Jeff Hulbert of City University for their discovery of an audio recording (recovered from the FBI via a Freedom of Information Act request) of British double-agent Guy Burgess talking about a visit he paid to Winston Churchill in 1938.
How geolocation may play a bigger role in future newsgathering: Journalism.co.uk has this report on a discussion at the Frontline Club on the effects of mobile, geolocation and user-generated content on the future of news. The impact of geolocation on newsgathering and verification is bound to be huge, but there were also warnings about its use to identify those who do not want to be located (such as activist reporters in hazardous situations). 
Bill to restrict 'town hall Pravda' passes its final Parliamentary hurdle: Press Gazette reports on the passing of the Local Audit and Accountability Bill through the House of Lords, which among other things could give minister the power to block local authorities from publishing overly political free newssheets, and "guarantee the right of journalists and bloggers to live Tweet and even film council meetings."
Christopher Chataway: Chris Chataway, who died this week, was not only an athlete, businessman and politician - he was also an early ITN reporter and BBC current affairs commentator.
How Kola Dumor became the face of Africa: Kola Dumor, the Ghanaian presenter of BBC World News' Focus on Africa programme, died tragically young of a heart attack, aged 41. Solomon Mugera's piece is among many heartfelt tributes made to the man.
Q&A with newspaper researchers: Bob Nicholson: Another in the excellent Europeana Newspapers series of interview with researchers using newspaper archives. Bob Nicholson, historian of 19th-century popular culture at Edge Hill University, talks about researching how jokes and slang moved between America and Britain in the 1800s.
The future of personal broadcasting:  Challenging piece from Charley Miller on how we can all become broadcasters, eventually.
Trinity Mirror axes daily tablet edition after seven months: Back in June the Birmingham Post boldly announced its Business Daily tablet edition (cost to subscribers £9.99 a month) hoping to  "reinvent business journalism within the regional press". It is no more.
The Sun celebrates a Facebook million: and appoints its first social media editor, James Manning.
Instafax: Somebody, somewhere, is going to make short-form news videos work. NowThisNews is experimenting with the form, and now the BBC has come up with test service Instafax, which uses Instgram to generate quick news summaries for people on the go. TheNextWeb reports.
The WorldPost: a platform for global conversation: Huffington Post and the Berggruen Institute on Governance launched The WorldPost (keeping up the vogue for have one word where two might do better), a digital news publication with global reach. Peter S. Goodman introduces the ideas behind it.
The birth of newspaper: Splendid images of some of the first newspapers to accompany Andrew Pettegree's History Today piece on the birth and slow rise of the medium.
Are we in a new golden age of journalism?: Tom Engelhardt of tomdispatch.com reckons so.
And in case you missed it, the British Library published a podcast of James Harding's 'Journalism Today' speech.