07 February 2014
St Pancras Intelligencer no. 4
Welcome to the latest edition of the St Pancras Intelligencer, our weekly round-up of news about news - stories about news production, publications, apps, digitised resources, events and what is happening with the newspaper collection (and other news collections) at the British Library.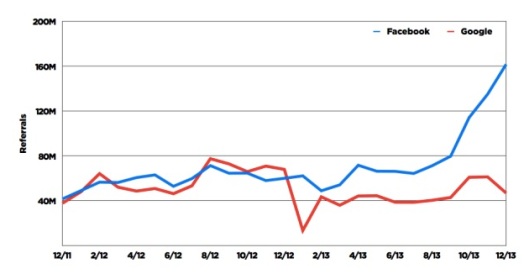 The year Facebook blew past Google: Peter Kafka notes how Facebook is now outstripping Google when its comes to referrals for Buzzfeed, which could have important implications for how web journalism works. Anyway, it's a great graph.
How I learned to stop worrying and love bite-sized news: Josh Stearns looks at short-form news services like Instafax, Circa and NowThis News and reckons they have their part to play in how we find news - "sometimes small pieces loosely joined can add up to more than the sum of their parts".
How the BBC and Guardian are innovating on Instagram: More on the use of Instagram by news outlets, with Rachel Bartlett reviewing Instafax and GuardianCam.
Help us improve the British Newspaper Archive: The BNA has a survey, asking you how you use the historical newspapers site and what you would like to see more of.
News Archive Connected Studio: Interesting things are being plotted at the BBC to open up its news archives. Peter Rippon reports on ways they might connected news archive to audiences.
UK Parliament considers allowing secret courts to issue orders to seize reporters' notebooks: The Deregulation Bill could lead to the seizure of journalists' notebooks, photographs and digital files in secret hearings, as opposed to open court as is the case now. Cory Doctorow is alarmed.
The secret to having a successful paywall around your news is simple - it's about community: Mathew Ingram looks at the success of Dutch crowdfunded journalism site De Correspondent, which is bringing in almost $2M per year in subscriptions.
News UK boss critical of Mail and measurement: It's been a week where those who see paywalls as the future of news journalism have been having their say. The Media Blog reports on Mike Darcey, CEO of News UK, criticising the Mail Online business model:
The Mail Online is the embodiment of the school of thought which says flooding the internet with tacky clickbait to attract huge audiences can be profitable while Darcey is clearly a man who believes in ringfencing smaller, more identifiable audiences behind paywalls, such as those imposed on The Sun and The Times.
Tim Franklin, incoming president of the Poynter Institute likewise praises the paywall models of the New York Times and the Wall Street Journal.
Have 24-hour news channels had their day?: This Guardian piece by Richard Sambrook and Sean McGuire makes some familiar arguments against 24-hour TV news (filling time when there is no news, becoming out-dated by social media, not really 'live' etc). Sky News' Adam Boulton tweeted angrily in response: "@sambrook's @mediaguardian blog on 24hr news: shoddy inaccurate generalizations timed for @SkyNews 25th but can hardly bear to mention us".
The Syrian opposition is disappearing from Facebook: Facebook's decision to shut down some pages of Syrian opposition has "dealt  significant blow to peaceful activists who have grown reliant on Facebook for communication and uncensored—if bloody and graphic—reporting on the war's atrocities", reports Michael Pizzi at The Atlantic.
How do hyperlocals contribute to local democracy and what do they need?: Those watching new news trends in the UK are excited by the hyperlocal trend for community-based websites. The Creative Citizens project at at Cardiff University and Birmingham City University has launched a survey aiming to learn more about the pratice and needs of neighbourhood websites.
Over one million TV and radio programmes now available for education: Previously we used to be thrilled when thousands of items were released online - now everyone seems to deal in millions. So one million TV and radio programmes are now available from the UK higher education service BoB National, thanks to collaboration with the BBC. Not available to general users though, alas.