14 February 2014
St Pancras Intelligencer no. 5
Welcome to the latest edition of the St Pancras Intelligencer, our weekly round-up of news about news - stories about news production, publications, apps, digitised resources, events and what is happening with the newspaper collection (and other news collections) at the British Library.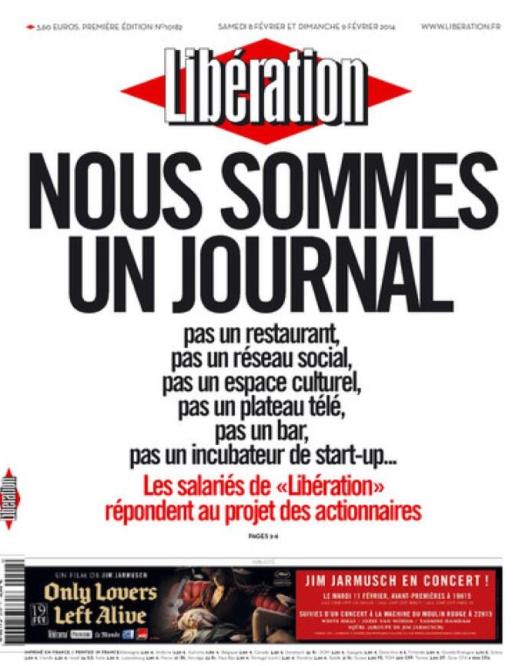 A note to the staff of Libération in France: Perhaps the most eye-catching news about news story of the week was the front page of French left-wing journal Libération, which was hijacked by staff protesting at the paper's shareholder group's plans to turn it into a social and cultural hub. Their call to be left alone to be a newspaper and to do journalism "couldn't be more wrong", according to Mathew Ingram.
17 Things That Would Only Get Reported In British Local Newspapers: Patrick Smith of Buzzfeed's regular round-ups of British local newspaper stories are always an irresistible treat. "Police launch appeal after mystery tea pot found near Cambridge ..."
News you can lose: Richard Sambrook on US cable TV news networks' strategy of diversifying programming to keep hold of shrinking audiences. " More and more, news channels will depend on dinosaurs and killer whales."
Georgia Henry obituary: The Guardian's deputy editor and creator of its Comment is Free section has been much mourned.
Iraqi newspaper bombed after Ayatollah caricature: Index on Censorship reports on the struggle to survive of the Al-Sabah Al-Jadeed independent newspaper.
You can see right through News Corp's transparency: Peter Preston analyses Mike Darcey of New UK's defence of pay walls and argues that one model does not fit all.
Europeana Newspapers: The portal for digitised European newspapers has produced a sassy promo video which shows just how inventive you can be in promoting newspaper archives for research.
Welsh Newspapers Online – 27 new publications: It's been a good week for newspaper archives. The National Library of Wales' Welsh Newspapers Online has added 27 new publications and now has over 630,000 pages from pre-1919 newspapers freely available.
125,000 extra pages now searchable on the British Newspaper Archive: In what has been a busy month for the BNA (which moved from Colindale to Boston Spa in January) they managed to add an extra 125,000 British Library newspaper pages to their online archive.
Periodicals return: The periodicals collection held at the (now closed) Colindale newspaper library was embargoed in June. From Monday February 17th it becomes available once more at the British Library's St Pancras site.
What is Google Newsstand and how can publishers make the most of it?: Press Gazette's Dominic Ponsford analyses Google's mobile app for news.
Video journalism: Former newsreel cameraman Terence Gallacher runs an excellent blog on the history of his profession. Here he asks whether camera operators have become journalists or the journalists become camera operators.
Why it matters that LBC is going national: LBC, the talk news radio station for London, went national on February 11th. Gillian Reynolds looks at why it's an important move.