28 April 2014
A strategy for news
The British Library is close to completing its £33M, seven-year Newspaper Programme, designed to ensure the long-term preservation of the UK's collection of newspapers by building a dedicated store in Boston Spa, Yorkshire, closing down the former Newspaper Library at Colindale and opening a new reading room for newspapers at its St Pancras site, the Newsroom. It has also partnered with DC Thomson Family History to digitise 40 million newspaper pages over a period of ten years (2010-2020).
Recently we have been looking to the future and developing a news content strategy to guide collection development over the next four years. Simply put, at a time when the production and consumption of news are changing radically, the strategy points the way for turning a world-class newspaper service into a world-class news service. On the day of the  official launch of the Newsroom, this is an overview of our strategy for news 2014-2017.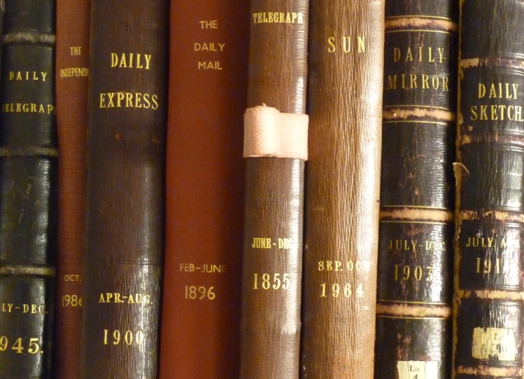 Newspaper volumes for various national titles from the British Library collection. We have over 660,000 bound and boxed volumes of newspapers, a third of which are also available on microfilm, while 2% has been digitised. Our policy is that users should consult microfilm or digital alternatives to the print copy where these are available. 
Changing news
The news media are undergoing significant change, with a move from print to digital and news organisations increasingly viewing themselves as being news providers rather than simply newspaper publishers. The Guardian's shift in strategy from 'from a print-based organisation to one that is digital-first in philosophy and practice' is symptomatic of changes impacting across the industry. News is gathered and composed digitally, and then transmitted through a variety of media, one of which – for the time being – remains the print newspaper. Moreover, the idea itself of who produces the news is being challenged by the rise in 'citizen journalism' and the way social media can be used by anyone to break a news story.
This model applies equally to the past. News does not exist, and probably never has existed, through one medium. It is we, the readers, who construct the news by selecting from the variety of forms on offer. Users should be able to discover and comprehend whatever the news choices were at whatever point in time that they choose.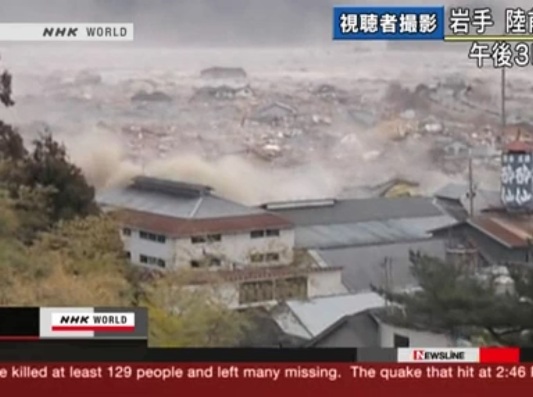 NHK World TV coverage of the tsunami of 11 March 2011, from the British Library's Broadcast News collection. Though NHK World is a Japanese station, it is available in English free-to-air in the UK via Freesat and so falls within our definition of 'news produced in the UK or which has had an impact on the UK'.
Objectives
Our news content strategy has been developed in the context of the Library's overall 2012-2015 Content Strategy, which sets out the Library's three-fold role: to develop the national published archive through legal deposit; to support UK research through collecting and connecting to contemporary content; and to support research and culture through developing world-class primary research collections.
The news content strategy keeps within this framework, and has these key objectives:
The Library's news offering should incorporate the full range of news media – newspapers, news websites, television news, radio news, and other media – through a combination of legal deposit, purchase and voluntary deposit, capture through copyright exception, and connecting to both licensed content and content shared with strategic partners.

The Library should view news as part of the broader media landscape, finding the news content it requires by collecting or connecting to the UK media world (print, web, audiovisual), of which news forms a fundamental part.

The Library's news content should comprise primarily news most relevant to UK users, meaning news produced in the UK or which has had an impact on the UK.

News content that falls outside the definition of news produced in the UK or which has impacted upon the UK should be covered by other subject-led areas of the content strategy.

The content strategy for news media is underpinned by legal deposit collecting, both print and non-print, but incorporates audiovisual media that lie outside legal deposit.

The Library must be a champion of regional news, including regional newspapers, hyperlocal websites, community radio and regional television news.

The Library primarily collects and connects to published news, not raw news data.

The Library's news content (or news data) should be made as widely available as possible to UK audiences, offering content online through licence, subscription, copyright exception and partnership arrangements, as well as maintaining physical research centres in London and Boston Spa.

The Library recognises that the concept of 'news' can be expanded to embrace anything of relevance to a particular community at a particular point in time, which long-term could have considerable impact on how it describes content and the services that it offers.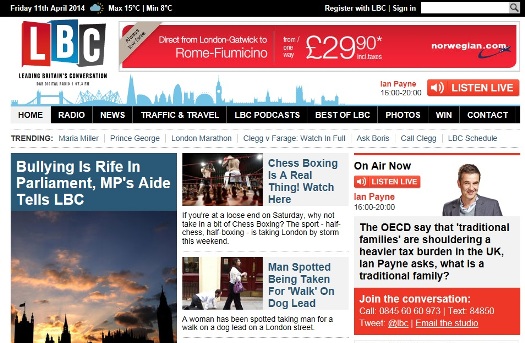 The Library's radio news collections including daily recordings made of LBC programmes. We are seeking ways of making radio (and television) programmes as word-searchable as printed sources, to create equality of searching across the different news media.
News today and yesterday
The British Library's news collection needs to be considered in two ways: the cumulative historical corpus, and the current and ongoing collection. Stressing news currency will be an important element of the Library's position as a news centre, capturing the world's matters today while illustrating that behind every such story lies a history that the Library can help uncover. The Newsroom is an expression of this intention, offering the best possible service for the researcher of yesterday's news while highlighting the news we are collecting today.
We already have 60 million newspaper issues (from the 1600s onwards), 25,000 news-based websites (archived since 2013) and over 40,000 television and radio programmes (mostly recorded since 2010). The collection grows by over 2,400 news publications each week - 1,500 newspapers, 500 news websites, 280 television news programmes and 140 news radio programmes. Our task will then be not simply to collect, preserve and make accessible these different news forms, but to facilitate the connections between them.
Our overall aims for the individual news media are:
Newspapers: To continue to collect UK and Irish newspapers under legal deposit, with a managed transition from print to digital collecting, but with the default position remaining print. 
Television: To record and deliver access to representative content from all television news channels available free-to-air in UK from 2010 onwards, while connecting to historical television news archives.
Radio: To capture through off-air recording a substantial proportion of the UK's radio news output as part of an emerging national radio archive offering, while continuing to preserve and make accessible heritage radio collections. 
Web: To capture selected news-based sites crawled on a high-frequency basis, as well as an annual UK web crawl, including multimedia content as far as possible; to capture selected examples of news-based social media.
Other media: To collect and connect to a range of content beyond the traditional understanding of what constitutes news, testing the viability of such an extension of service through pilot projects.
By 2017 we will aim to have achieved the following main goals:
The acquisition of 400,000 additional newspapers (individual issues), for which the annual intake in 2017 will be 25% digital, with an 'iconic' 5% collected in both print and digital forms.

A 5% fall in newspaper intake by reducing the number of heavily advertising-based titles.

A critical mass of digital news content across different media, including 30M digitised newspaper pages, 100,000 television news recordings, 100,000 radio news recordings, 1.5M news web pages, and connection to 3M news records from external sources.

An increased number of partners (and content made available through partners).

New research outputs based on interlinked news media resources.

Increased citations of audio-visual news media in scholarly publications.

Recognition by academic researchers, creatives, family historians and the news industry of the Newsroom as essential to the discovery, understanding and reuse of news content.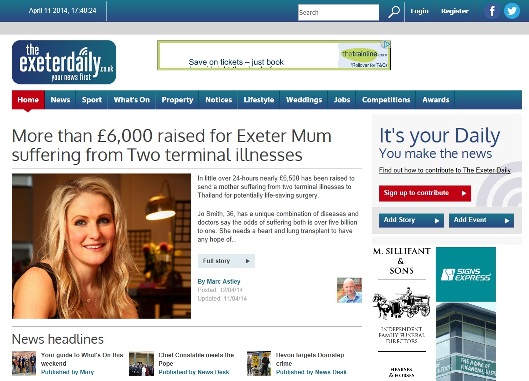 Over 500 UK news websites are being archived on a daily or weekly basis under the new non-print Legal Deposit regulations introduced in 2013, including online-only news publications such as the Exeter Daily.
A sense of the now
These four statements represent our overall vision for news at the British Library - the world of news research that we want to encourage. 
A British Library news collection and service that is not constrained by one form but embraces all the different news media, created through a combination of legal deposit, voluntary deposit and connecting to content both licensed and shared with strategic partners.

The British Library becomes a news centre, serving scholarly, commercial and personal researchers, both onsite and remote.

A resource discovery mechanism that opens up the Library's news and news-related digital content through cross-media searching, encourages searching across other news collections, and has a set of tools to encourage innovative thinking and creative re-use, leading to new kinds of research questions.

A model for the presentation of current and historical news media that transmits to users a sense of the 'now' at any time in the past, expressed in the research experience, exhibitions, publications and in public understanding of the Library itself as playing a fundamental role in the understanding of British society.
That 'sense of the now' is key. It represents the urge we all feel to keep up with the news every day, if we want to belong. But it is also what makes yesterday's news so compelling to anyone seeking a connection with the past - from the academic to the family history researcher, from the journalist to the creative artist in search of inspiration. That is what is so exciting about news archives. We turn to a record of the past, and because we have chosen to look at it, it comes back to life - it is news once more.
This post summarises our news content strategy for 2014-2017. We welcome any comments you may have about it.