30 April 2014
Open for business
On Monday April 28th the British Library officially launched the Newsroom, its new reading room for news. It was a long day, the fruition of much organisation to ensure everything went just right (the British Library strives very hard to make sure that everything always goes just right), as well as the culmination of seven years of planning for the proper preservation of the UK's newspaper collection. Here's a record of some of what happened over the day, from your blogger's perspective.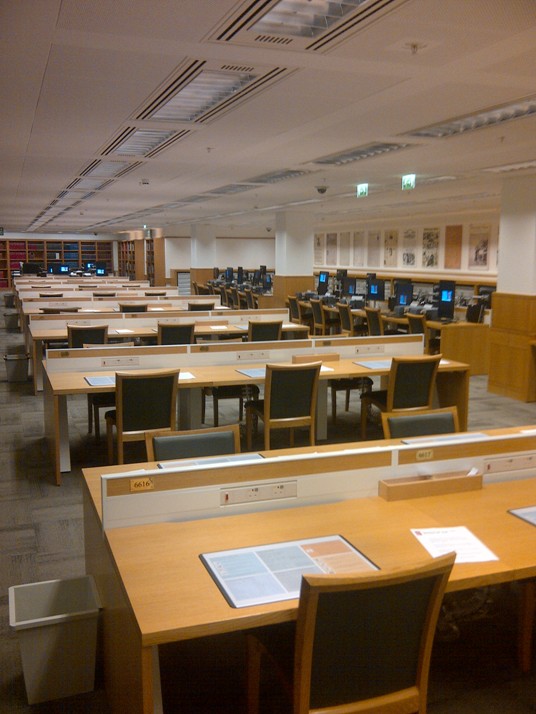 An empty Newsroom
07.15 - A bleary-eyed news curator stumbles into the Library, heads up to the Newsroom on the second floor, and joins the head of press (a man who may not actually sleep at all) whose job it is to manage our messages. We set up two of the 40 digital microfilm readers that we have installed. We choose The Times from the late 19th century and a News of the World from the 1920s, one displayed 'landscape', the other 'portrait', to show off how the screens can be manipulated to fit the shape of the newspapers they show. Before the TV company comes in, I take a quick phone snap of the empty room.
07.30 - A camera operator and a journalist from TNR, a Press Association off-shoot, arrive to film a short piece about the Newsroom, to be sold on as a package to TV news providers. They work out camera angles, position me by a wall with a long display of newspaper front pages, pin a microphone to my lapel and get me to give my name and so forth to check sound levels. They shine a bright light in my face. I have a crib sheet telling me all of the messages that I have to get across. I stutter my way through the interview, surviving somehow. Try as I might I cannot say the words "Secretary of State for Culture" without stumbling. They say nice things, which means that my gloomy assessment of how I appear on camera is probably spot on. They go off to shoot some background shots, and I head for my desk.
09:00 - I publish a blog post (written two days beforehand) on the British Library's news content strategy. It seemed timely to do so.
10:00 - Checking through the advance news coverage of the launch. An excellent, thoughtful piece in The Independent by Ian Burrell, that gets where we are coming from and going to, lifts the spirits. The Guardian has a shorter piece full of all the facts and figures we sent to them - the online version unfortunately states that the reading room itself cost £33M. It's very hard for anyone to spend that amount of money on a room (the money was mostly spent on the preservation store for newspapers that we have built at Boston Spa in Yorkshire). I review my list of newspaper collection facts and worry about what our earliest, still published newspaper title might be. Is it the Stamford Mercury or Berrow's Worcester Journal? The London Gazette (first published 1665) trumps them both, but is it strictly speaking a newspaper?
11:00 - Another TV crew, this time from ITV London. They are much quicker about things, letting me talk more freely about things. I show off the microfilm readers, the Broadcast News television service, the archive of web sites, throw in mentions of the preservation centre and say how pleased we all are. The interviewer is somewhat smaller than me and I wonder how it will look on screen with me looming over him. Odd, is the answer. Odder is the near-empty Newsroom. Where are they all? The place has been packed for days, and the moment we bring in cameras, everyone disappears. He-who-never-sleeps boldly invites a researcher sitting blamelessly at one of the microfilm readers if he would be willing to be interviewed for the news piece. Certainly, he says. It turns out he has no TV but he talks to camera like a trouper.
12:00 - Lunch, then coffee while reading The Independent piece.
13:00 - He-who-never-sleeps has been in touch with Newsnight. They have a great idea for when the programme signs off by showing tomorrow's papers - why not do so with tomorrow's news from 1914, 1814, maybe even 1714? It's going to be a bit pot luck, but I scour the British Newspaper Archive and find some uninspiring front pages. Our friends at DC Thomson Family History join in and do rather better at finding good stories. I redeem myself by looking at our Burney collection of early newspapers and finding a couple of good items for 29 April 1714. Fingers crossed.
13:30 - BBC London want to do a radio interview with me. It will be on my home phone, but at 06:25 tomorrow morning. I agree to this, somehow cheerfully.
14:00 - News about the launch has spread all over Twitter, or at least the bits of Twitter that I know. There is some confusion out there (no, the room did not cost £33M; no, we haven't digitised all 750 million newspaper and magazine pages in the collection) but huge enthusiasm. It's a good news story.
14:30 - We have the final project board meeting for the Newsroom. Nothing gets done at the British Library without a project team, project plan, work packages, risk register, budget, lessons learned log and such like. Everything is meticulously thought through, though we all have issues that we don't think have been properly resolved as yet. But we are pleased with the reaction there has been from researchers so far (we actually opened the room on April 7th), both new and the old hands who used the Colindale newspaper library that we closed down in November.
15:30 - I fret over the slow loading of videos in the Newsroom and check the display for live TV and live web sites in the networking area of the Newsroom. Everyone is bothered by the archive videos that we show there because they aren't captioned as such, and people have been spooked by seeing footage of London riots and not realising it's 2011. I say that making adjustments to the display is not as straightforward as they might think. This is true, but doesn't sound convincing.
16:30 - We have a team meeting in the Library foyer to make sure everyone knows what they have to do for the evening. Screens have been put up (two show newspaper pages, one for video), there is a platform for the speakers that looks amusingly like a trampoline, and there is an extraordinarily large amount of audio equipment for what will be three speeches at one microphone and a video. 
17:00 - The Newsroom is closed early. The newspaper curator and I carry newspaper volumes into the Newsroom and display them on rests or lecterns. We have chosen four titles from four centuries that are each all still in print - The London Gazette (17thC), Stamford Mercury (18thC), Manchester Guardian (19thC) and Daily Mail (20thC). The Manchester Guardian does not sit steadily on its lectern so wisely we lie it flat instead. The print copies of the newspapers won't start to become available in the Newsroom until Autumn, but we had to display some. I test the videos - they are still taking an age to load. I make contingency plans.
17:30 - I put on a tie. It looks terrible. I take it off then put it on again. It looks worse. I repeat this action several times. I resign myself to my fate.
18:15 - The first guests arrive for the launch of the Newsroom. The party is taking place in the foyer. The great, the good, former Colindale users and staff past and present have their names ticked off the list and pick up coloured cards which say which of the tours of the Newsroom we have organised with our elegantly-attired newspaper reference team they will be going on. Despite some chaos behind the scenes, the visitors all enjoy their tours, not knowing that they might have enjoyed them even more had we been able to organise them as we have dreamed we would do.
18:25 - The ITV London piece is broadcast. The TNR team are here for the party, to film the event and the minister's tour of the Newsroom.
18:30 - The place is packed and we humans do what humans do best and talk animatedly at one another. The canapés include fish and chips in newspaper - just the one chip and a sliver of fish in a newspaper-ish cone, but a neat idea all the same. I say hello to many friends.
Robert Peston in full flow
19:15 - The minister has arrived, and the speeches begin. The Chief Executive of the British Library thanks everyone for coming and praises the achievements of the Newspaper Programme which has worked so had to ensure the long-term preservation of the newspaper collection. The recently-appointed Secretary of State for Culture, Sajid Javid, then gives his first speech in his new role. He talks engagingly about his nerdish adolescent fondness for newspapers at his local library and says all the right things. Then the BBC's Robert Peston gives a most charming speech, keen in tone and theme, with a most touching reference to his late wife's great fondness for the Colindale library where she researched regularly.
The Newsroom launch video
19:30 - We play a promo video that we shot a couple of weeks ago which introduces the Newsroom and the Boston Spa store. The conceit of having the opening images move up and down as though being viewed on a microfilm reader is probably lost on most (I didn't get it until a third viewing), but it has cheery music, says what it needed to say, and the Newsroom looks great, if populated by some familiar faces from our press office (filming mostly took place before the room opened to the public, and you have to get your 'users' from somewhere). I cringe as the video ends with me giving the cheesy pay-off line - "We're open for business". They clap anyway.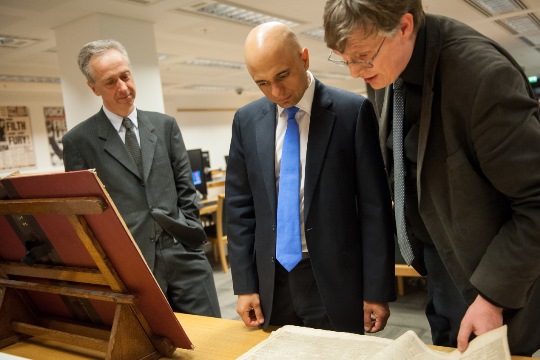 Roly Keating, chief executive of the British Library, Sajid Javid, Culture Secretary, and a curator inspecting the Stamford Mercury
19:45 - The CE, the minister and I go up to the Newsroom (it's on the second floor) to show him round. I explain the idea of the networking area is to encourage collaborative research and to show current news, so that we're as much about news today as the news of yesterday. We show him the newspaper volumes, the microfilm readers (ably demonstrated by one of our newspaper reference team), Broadcast News (everything works - oh happy day), showing off our recording from that morning of ITV's new breakfast show Good Morning Britain (he hasn't heard of it). He is interested in everything, particularly in our web archives, then goes off script by searching for his own name rather than the subject terms I had prepared. Sure enough the link he selects doesn't work. We move on quickly. TNR films him and he comes up with perfect short quotes. It's a gift.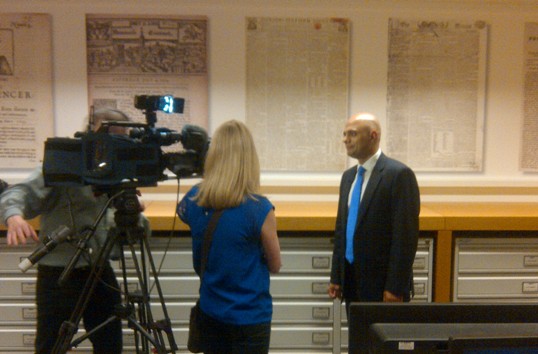 The minister is interviewed
20:00 - The party continues, though the numbers have thinned as various people decide they would rather get home now before the Tube strike starts at 9pm. I make plans, arrange meetings, smile constantly, then escape. Other remains behind to clean it all up as if the event had never been.
21:00 - I answer some of the many Tweets and emails that have appeared through the day. Enthusiasm still reigns. @BL_newsroom has many more Twitter followers than it did. 
22:00 - Home. The other news out there - a schoolteacher has been stabbed to death in her classroom. A special report from ruined Aleppo. Max Clifford has been found guilty of indecent assaults. Pfizer is confident of a takeover of AstraZeneca. Arsenal have beaten Newcastle 3-0. ITV London shows its Newsroom piece again, in re-edited form.
A look at tomorrow's papers...
23:20 - Newsnight closes with the tomorrow's headlines from three past centuries. Jeremy Paxman says that we have 7.5 million pages instead of 750 million, but the conceit works well. He stumbles over his words more than I do, which I find reassuring. They subsequently publish the clip on YouTube.
23:30 - End of a long day in which we played our part in manufacturing the news while showing how well we are archiving it and making it available again. News is not what happens, it is what is mediated through accepted news channels and consumed by us as clients of those channels. Likewise with history, which is not what happened but what we select and re-tell from what once happened (often found through news archives such as ours). All we ever do is tell stories to one another.
24:00 - TNR delivers its completed video package of the day. He-who-never-sleeps takes receipt of it and starts work for another day....
Update: The TNR video package has appeared on several news websites, for example the Yorkshire Post.