25 April 2014
St Pancras Intelligencer no. 15
Welcome to the latest edition of the St Pancras Intelligencer, our weekly round-up of news about news - stories about news production, publications, apps, digitised resources, events and what is happening with the newspaper collection (and other news collections) at the British Library. 
Graphic accompanying The Upshot's post 'Who will win the Senate? from its first issue
Here comes The Upshot, the new explanatory journalism effort from the New York Times: Exploratory journalism is the great craze among America's chattering classes, and this week the New York Times produced its rival to Vox and FiveThirtyEight. Mathew Ingram at Gigaom investigates.
The Upshot vs. Vox vs. FiveThirtyEight: A hands-on review of explanatory journalism: And from the source hand and the same source, a handy guide to the exploratory journalism phenomenon.
BuzzFeed: Cute cats and hard news? Ian Burrell at The Independent looks at Buzzfeed's ambitions to become a serious news providers (while still having a space in its New York offices called the NoNoNoNo Cat Room).
8 Digital Tools Every Journalist Should Try: A fascinating selection from Eric Newton of the Knight Foundation, including Creativist, Videolicious and Wickr.
FT favours one rule for itself, and another for everyone else, when it comes to press regulation: The Financial Times has decided to regulate itself rather than join the new Independent Press Standards Organisation (IPSO). Press Gazette asks why.
Ukrainian newspaper office burned down after threats: It has been a sorry week for respecting the rights of journalists and the press. The Newsroom of Ukraine's Provintsiya was burned down with Molotov cocktails, Pakistani news anchor Hamid Mir was shot and wounded, the trial in Egypt of the three al-Jazeera journalists continues, and American journalist Simon Ostrovsky from Vice was taken by militia in Eastern Ukraine. Happily he has now been released, as have been the four French journalists held captive in Syria for nearly a year.
Risk and Reporting: The Dangers of Freelance Journalism in Syria: Freelance journalist José Gonzalez provides a useful overview of the operations of freelancers in Syria: the risks, the questions and the imperatives.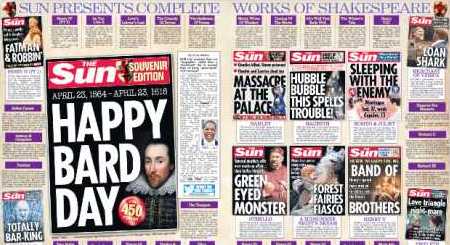 Happy Bard Day: Among the many newspaper tributes to William Shakespeare on his 450th, none matched  The Sun for wit, or surprise factor, with a classic spread containing potted summaries of all of the plays and spoof front pages: " "Massacre at the palace: Claudius killed, Queen poisoned. Hamlet and Laertes dead too ... Alas poor Yorick - skull found."
Four out of ten Britons think it was right to give Guardian a Pulitzer: Some might query whether four out of ten Britons have actually heard of the Pulitzer prize (or Edward Snowden for that matter), but a YouGov poll asked this question:
It was recently announced that The Guardian and US newspaper The Washington Post would receive the Pulitzer Prize, the biggest prize in US journalism, for their coverage of the NSA surveillance programmes as revealed by ex-CIA contractor Edward Snowden. Do you think it is right or wrong for the prize to be given to papers that publish stories like this?
and got these results: Right: 37 per cent; Wrong: 22 per cent; Don't know: 41 per cent.
Pathé goes to YouTube: There has been much rejoicing at the news that the British Pathé newsreel archive has been made available on YouTube. The Newsroom blog is pleased too, but asks some questions about how useful it is to historians in this form.
Blendle: Dutch news platform offers money-back guarantee: Not a week seems to go by without a new form of payment for online news being tried. Dutch government-funded news site Blendle asks you to pay for stories, giving you your money back if you are not completely satisfied.
How is user-generated content used in TV news?: A Tow Center report examines the ways television news organisations and online media companies employ user-generated content and finds much inconcistency of crediting, and use.