02 May 2014
St Pancras Intelligencer no. 16
Welcome to the latest edition of the St Pancras Intelligencer, our weekly round-up of news about news - stories about news production, publications, apps, digitised resources, events and what is happening with the newspaper collection (and other news collections) at the British Library.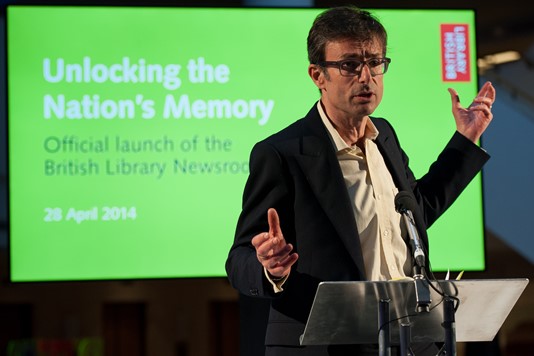 Robert Peston speaking at the launch of the Newsroom
Open for business: Well, we've been busy this week. The British Library's Newsroom was officially launched by the Secretary of State for Culture, Sajid Javid, on Monday 28 April, with a star turn from the BBC's Robert Peston,  before a gathering of journalists, media commentators, educationalists, British Library staff and ordinary users of our newspaper collection and other news services. There was a promotional video, a TV news package that appeared on many regional newspaper sites, and widespread media coverage (I think my favourite was Us vs Th3m's breathless 'The British Library is now improved with ARCHIVE ROBOTS'). The Newsroom's own blog post looks behind the scenes at the manufacutring of our own news event.
A strategy for news: On the day of the Newsroom launch we published a summary of our news content strategy for 2014-2017. It points the way for turning a world-class newspaper service into a world-class news service, by collecting (or connecting to) not only newspapers, but television news, radio news and web news.
Sajid Javid: Hacking down to 'bad apples' - press freedom 'cornerstone of democracy': The new Culture Secretary says it is up to press industry to decide how to proceed with regulation following the phone hacking scandal, reports Press Gazette.
Announcing FB Newswire, Powered by Storyful: Facebook and social news agency Storyful (owned by News Corp) have launched FB Newswire, which describes itself as "a resource for journalists that aggregates newsworthy social content shared publicly on Facebook by individuals and organizations" and could be a significant development in (social) news gathering. Facebook's Newsroom explains the background.
Local TV plan on the rocks as funding frozen, while London Live head quits: Oh dear. Plans for a network of local TV stations appear to have hit the rocks, while the chief programmer of London Live (which shares an owner with the Evening Standard, which has liberally promoted the channel) quit following terrible viewing figures, including near zero for some news programmes.
Nate Silver's advice to young journalists: Learn to code now: Emily Bell gave a scintiallating lecture at the British Library on automated journalism, which we'll be blogging about in due course. One of the themes she raised was the advantages of journalists being able to code, and others have raised the same issue this week. US news media star Nate Silver tells Geekwire that "If you're an aspiring journalist who knows how to code really well, you are in a very hot market", and Richard Sambrook argues that "journalists can learn lessons from coders in developing the creative future".
Ofcom should be looking again at Putin's TV news channel: Steve Bloomfield at The Guardian is appalled by the news coverage from RT (formerly Russia Today), which is readily available to UK viewers (and programmes from which are recorded daily for the British Library's Broadcast News service).
Anyone who has tired of Sky News's endless reporting of the Oscar Pistorius trial or CNN's down-the-rabbit-hole coverage of the hunt for Flight MH370 would accept that the world of 24-hour TV news could do with an alternative voice. But propaganda for an autocratic government and conspiracy theories linked to antisemitism are not an alternative anyone should be comfortable with.
Paying for online news: Dominic Ponsford at Press Gazette considers the mixed lessons to be learned from the Telegraph's metered paywall, one year on from its introduction.
Journalists' sources are no longer safe in Australia: Paul Farrell at The Guardian worries how Australia's Telecommunications Interception and Access Act 1979 could permit government agencies instantaneously to track down journalists' sources.

ITV's new breakfast show divides opinion: Four presenters at a single desk (plus weather reporter standing awkwardly by), fast pace, US feel, and star acquisition in Susanna Reid: ITV's Good Morning Britain launched on Monday and has had mixed reviews so far, as in this Metro report. But no one is saying bring back Daybreak.
Print is not the future, but it's not the past either: Peter Preston at The Observer thinks print's not dead yet - not while the industry has yet to work out how to make money from digital.
Revealed: The top 10 regional papers on Twitter: interesting list from Hold the Front Page of the top ten UK regional newspapers with the largest number of followers on Twitter. The Liverpool Echo's @LivEchonews comes out top with 136K followers. But what do they mean by saying that 77 newspapers in the UK are using Twitter? Our figures here suggest well over 350 do so...
Fears grow that the BBC News Channel could become online only: Could the BBC News 24-hour channel go online-only (as has been suggested will happen to BBC30 as part of BBC cost-cutting plans. Ian Burrell at The Independent asks the questions.
The Onion sets its sights on BuzzFeed, Upworthy: At last, The Onion is to set its sights on the listmania of quasi-news sites like Buzzfeed and Upworthy with a new site to mock the whole concept called Clickhole (launches in June). Unless the news about this is a spoof itself...
Max Clifford has finally got some of his own medicine: Max Clifford has been found guilty of eight counts of indecent assault, and schadenfraude reigns in the media world. At The Drum one "master of spin" Richard Hillgrove considers the downfall of another.
An incomplete list of things which are going to shape the next journalism: George Brock's latest wise overview of how journalism is changing, with seven issues that all in the industry need to be asking themselves.
BBC hacks – tweet the crap out of the news, cries tech-dazzled Trust: You can trust The Register to have taken a less than deferential apporoach to the BBC Trust's report Getting the best out of the BBC for licence fee payers: BBC Trust Review, BBC Network News and Current Affairs.
Once the BBC was un-ignorable, whatever age you might be. Today, half of under-25s and two thirds of under-20s ignore it completely. And even online, apathy reigns: the corporation's digital share has increased from only 24 per cent of adults in 2012 to 26 per cent today.
We haven't even scratched surface of explainer journalism: Adam Tinworth at journalism.co.uk looks at the US phenomenon of explainer/exploratory/data/call-it-what-you-will journalism and argues that we need to "rethink our content models to make our journalism relevant for a digital age".
Jeremy Paxman to step down as presenter of Newsnight: The nation's favourite torturer of politicians is standing down in June.