09 May 2014
St Pancras Intelligencer no. 17
It's a shorter edition this week of the St Pancras Intelligencer, our weekly round-up of news about news, as your blogger is on holiday, following the heady events surrounding the opening of the Newsroom at the British Library. But the news goes on, even if one is sunning oneself and sipping coffee at some Parisian boulevard, so here are a few of the week's links that have caught our eye.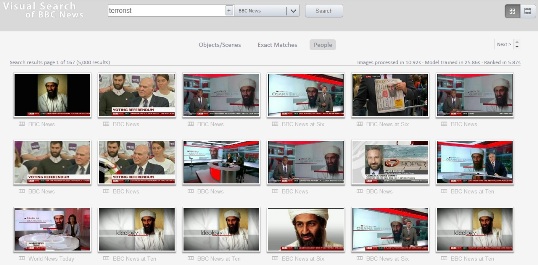 Search results for the term 'terrorist' using the BBC/Oxford University Face Recognition Prototype
Face recognition and new ways to search the archive: The tremendously bright people at BBC R&D are doing some remarkable work exploring ways in which to improve the discovery and use of television and radio archives in a digital age. Their latest venture is into face recognition, where they have been collaborating with a team from Oxford University. You can have fun testing out their Face Recognition Prototype which uses images of faces taken from BBC News programmes from the last 5 years.
Mail Online has grown ten-fold since its 2008 relaunch, but is it journalism?: Bethany Usher at Press Gazette marvels at how Mail Online has achied a 690 per cent increase in audience in the first five years since its relaunch, but is news aggregation of the kind practised on the site really journalism?
Inside the Financial Times' digital strategy: A really interesting piece from Ricardo Bilton at DigiDay on how the Financial Times has built its digital business around an audience-driven subscription model.
Pro-Kremlin journalists win medals for 'objective' coverage of Crimea: The Guardian reports that President Putin has awarded medals of the "Order of Service to the Fatherland" to 300 journalists for their Kremlin-friendly coverage.
Brown Moses, his alter ego Eliot Higgins, and the rise of the self-trained journalist: Mathew Ingram at Gigaom (one of the most stimulating media analysts out there) tells the story behind the success of citizen journalist Eliot Higgins - aka Brown Moses - who without any journalism background chose to write about the Syrian conflict and to uncover data one the use of weaponry through assiduous analysis of online sources. Ingram writes:
Eliot is living proof not only of the idea that the tools of journalism are now available to anyone, but that the skills and functions that used to be included in that term are effectively being disaggregated or unbundled. Just as the eyewitness reporting part of a journalist's job can be done by anyone, the fact-checking or research function that backs up this reporting can be quite easily done by someone who is smart, methodical and motivated like Eliot Higgins...
The future of media isn't about breaking news scoops, it's about credibility and trust: Also from Ingram, his take on the controversial and much-discussed comments made by Feliz Salmon on the cult of scoops in the news industry (which matter a lot to journalists while their readers care not a jot whose scoop it might be).
News drones over El Salvador: Jamie Stark at Global Post reports on the use of drones for news-gathering in El Salvador and other Latin American countries, something not possible in the USA, which (currently) bans the use of drones for news and comercial purposes.
Why LinkedIn is morphing from a social network into an online newspaper: Leo Mirani at Quartz looks at how the professional social network LinkedIn is looking to bring meaningful information to the millions of professionals worldwide now signed up to the service. "They would like guys like you and me to look at our LinkedIn newsfeed as part of our morning ritual, the same way some people look at Twitter" says one commentator.
Why we should celebrate journalism of the past, present and future: Tony Harcup, author of the forthcoming Oxford Dictionary of Journalism, rejoices in journalims in all its "gloriously messy" forms, while being unsure of what it's future will be. Only two things he is sure of:
1. Journalists will always hark back to a mythical golden age that seems to coincide with when they were young, and which has now gone for ever.

2. Anything with the temerity to be called a dictionary of journalism will always provoke journalists to scour it for omissions, errors or slights to prove that the author knows nothing about anything.