23 May 2014
St Pancras Intelligencer no. 19
Welcome to the latest edition of the St Pancras Intelligencer, our weekly round-up of news about news - stories about news production, publications, apps, digitised resources, events and what is happening with the newspaper collection (and other news collections) at the British Library.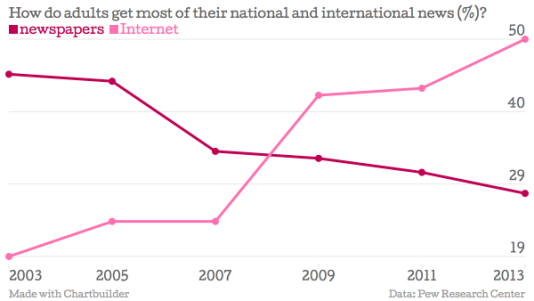 One of DigiDay's five chart's illustrating the New York Times' digital challenges
The leaked New York Times innovation report is one of the key documents of this media age: The New York Times continues to dominate discussion about the news media, for the sacking of its female executive editor, and for its leaked report into its digital shortcomings. The title of this Nieman Journalism Lab investigation into the document's contents may be a touch hyperbolic, but it does reflect the fascination and excitement that the document has generated, with lessons for all those involved in news publication (on digital publishing generally).
The New York Times' digital challenges, in 5 charts: It's a long document, so for those who don't have the time (or who find reading so much detail on a screen hard on the eyes...) DigiDay has produces five illuminating charts extracted from the report's data that tell the story of the NYT's digital struggles.
Le Monde and New York Times turn on their female editors: Peter Preston in the Observer looks behind the sacking of Jill Abramson at the New York Times and the ousting of Natalie Nougayrède at Le Monde through a staff revolt and sees it all as part of the brutal and sometimes clumsy weilding of power. Meanwhile, in her Guardian piece Life and death as a female editor Amanda Wilson (formerly editor of the Sydney Morning Herald) looks at the perils of editing while female.
"I thought of Hakim as a friend. Then he shot me": An unbeatable title for an article which is as powerful a read as you will find anywhere. Anthony Loyd, a hugely respected reporter with The Times, describes how he was kidnapped by Syrian rebels lead by someone that he had previously befriended and who had him severaly beaten and then personally shot him in the ankles to cripple him. Loyd was eventually freed following intervention by the Islamic Front. The Times piece is behind a paywall, but there is a BBC News interview with him that provides the main details.
8 million newspaper pages are now fully searchable: The British Newspaper Archive has hit the magic number of eight million historical newspaper pages digitised and available online. 
Local heroes: The British Newspaper Archive is largely made of the regional newspapers of times past. Press Gazette reports on the regional press of today and the winners of the Regional Press Awards 2013 (with a poweful set of front pages and prize-winning photographs).
Time to look afresh at the role of the BBC: The BBC's influence on regional news is a never-ending topic of debate. The Yorkshire Post has published the full text of a speech given to the Newspaper Society by Ashley Highfield, CEO of Johnston Press (and a former BBC high-flier) that calls for a new relationship between the BBC and regional publishers.
The BBC is one of the country's most important cultural institutions and the relationship it has with us as a nation is truly astounding. But it's not the BBC which has a direct relationship with people in Pocklington, Peterborough or Portsmouth. It's us – the local media operators.
'BBC News should learn lessons from Buzzfeed in digital strategy': Of course it's charter renewal time, so everyone has advice for the BBC. Someone they might well listen to (given that he is being tipped as a possible BBC Chairman) is Sir Howard Stringer, who has produced a report on the future of BBC News. Comparing BBC News to the rapid rise of Buzzfeed, he argues "It is impossible to escape the conclusion that the BBC is punching well below its weight in the digital world." The report was commissioned by BBC Head of News James Harding, and readers of this blog will know that Harding himself champion Buzzfeed and its ilk in his WT Stead lecture given at the British Library in January.
BBC World News channel in 30m American homes: Meanwhile the BBC news channel you don't see unless you are outside the UK is doing rather well. Ariel report on the success of the advertising-supported 24-hour news channel BBC World in America, where it now reaches 30 million homes, up from six million two years ago.
What data journalists need to differently: Don't just rely on the same old sources, advises Liliana Bounegru in this really interesting piece on the rise of data journalism for Harvard Business Review.
How algorithms decide the news for you: Think you are finding the news for yourself on that phone of yours? Think again. Jihii Jolly at Columbia Journalism Review explains how social media and reading apps bring us the news depending on who we are and where we are.
These type of algorithms create a news literacy issue because if readers don't know they are influencing content, they cannot make critical decisions about what they choose to read. 
Grasswire founder Austen Allred is trying to build a Wikipedia-style platform for real-time news: Mathew Ingram's pieces on new media for Gigaom tend to give you a lot of plain detail in their titles alone. Here he gives the background the crowdsourced breaking-news service Grasswire, a sort of Wikipedia for breaking news (or that's where its ambitions may take it).
What newsroom spaces tell us about the future of digital journalism: An interesting twist of digital journalism debates from PBS's Mediashift, reporting on a Tow Center for Digital Journalism study. What implications does physical space hold for the digital future of news?
Barbara Walters retires after five decades: American broadcaster Barbara Walters, famed for her high-profile interviews for ABC, has retired after 52 years in the business.
Globalised news looks around the world – but too little at the north: Peter Preston again, noting that for too many London-based journalists the digital world is more real than the actual ones in the north of England and Scotland, which are treated as remote places.
Fleet Street's last religious affairs position axed as Ruth Gledhill leaves Times after 27 years: End of an era, sort of, but as Ruth Gledhill interestingly says to Press Gazette:
When I started the job I was asked to take religion out of the sanctuary, and into the general news arena. And in a way you could say it's a sign of my success that now my job has been made redundant because it's so much a part of general news now.
The concept of news: And finally, this blog provides you with some thoughts about what news is, inspired by debate that took place at a Newsreel Netowrk meeting in Copenhagen. "How far does the idea of news stretch? Does it include any kind of information delivered to an audience at a particular time, or does it lie specifically in those media which identify themselves as being carriers of news, such as newspapers?". We will continue to discuss.