01 August 2014
St Pancras Intelligencer no. 29
Welcome to the latest edition of the St Pancras Intelligencer, our weekly round-up of news about news - stories about news production, publications, apps, digitised resources, events and what is happening with the newspaper collection (and other news collections) at the British Library.
Jon Snow has opinions, and they're fit for TV: Channel 4 News presenter Jon Snow's heartfelt account of the child victims in Gaza went viral this week. James Ball at The Guardian praises its sentiments, notes that such partiality would have probably breached Ofcom guidelines (the video was not shown on Channel 4 News itself, only its YouTube channel), and calls for more opinion to be allowed for broadcast journalists:
What then is gained by making people who have opinions withhold them? Journalists' views shape the questions they ask, the people they interview, the images they choose to show, and more. The current system requires those judgments, and the reasons behind them, to be hidden from the audience in a pretence of impartiality.
The conflict in Gaza has generated impassionated debate among academics and media practitioners around questions of bias, partiality and media control. Among these are Michael Chanan's Behind the news at Gaza at his Putney Debater blog, Justin Schlosberg's Media wars over Gaza at Open Democracy.net, Paul Mason's Why Israel is losing the social media war over Gaza for Channel 4 News, Surabhi Vaya at First Post, Gaza: How bias affects coverage of Israel-Palestine conflict, and Glenn Greenwald at Intercept, Terrorism in the Israeli Attack on Gaza. Some of the fiercest debate has been around the perceived role of the BBC. Ian Burrell at The Independent surveys this in With Charter Renewal on the horizon, complaints over Gaza are dangerous for BBC.
Net roots of BuzzFeed plagiarism: BuzzFeed apologised this week that one of its writers, Benny Johnson (now sacked) had been guilty of plagiarism - and provided links to all the affected stories. Dylan Byers at POLITICO puts the blame on the Internet, presssure of production and lack of journalism training (though in the same week The Times's tennis correspondent has been suspended after plagiarising work for a tennis yearbook and a reporter at the New York Times accused of copying from Wikipedia).
MH17: how Storyful's 'social sleuthing' helped verify evidence: Ben Carter at The Guardian on how News Corp-owned Storyful has been verifying content from Twitter and YouTube to get to the truth behind the shooting down of Malaysia Airlines Flight MH17.
Social media has changed the way that war reporting works - and that's a good thing: Mathew Ingram at Gigaom finds that the influence of social media on war reporting has made the news more personal, more chaotic, and more democratic.
Spain likely to pass 'Google Tax': Spain has approved a bill giving newspaper publishers the right to seek payment from any site that links to their content. TechDirt is sceptical, pointing out that a similar case in Belgium led to Google simply removing the affected newspapers from the local Google news, the result of which was the newspapers ended up asking to be let back in after they suffered a drop in revenue.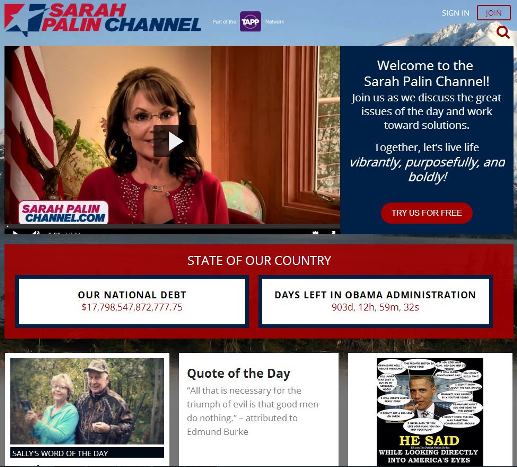 sarahpalinchannel.com
Sarah Palin's low-budget TV channel is pricier than Netflix: Sarah Palin has launched an online news channel, to widespread mockery. "We'll go beyond the sound bites and the media's politically correct filter to get to the truth," she promises. 
The newsonomics of how and why: Ken Doctor at Nieman Journalism Lab asks whether explanatory or data journalism (exciting much interest in the USA) can expand to cover news on a more local level.
Welcome to Storyline: Talking of which, though we're a bit late in reporting this, Washington Post has launched its own explanatory journalism site, Storyline.
At front lines, bearing witness in real time: David Carr at New York Times ponders what the impact is on us now that we can follow wars in real time, and the impact that it is having on journalists (including Anne Barnard at the New York Times, criticised by some for not tweeting from Gaza.
Drama in Crimea: From the days when war reports would take weeks to reach their public, but had a seismic effect once they did so, Roy Greenslade reviews a new collection, Battles in the Crimea, which gathers together William H. Russell's renowned reports for The Times on the Crimean war of 1854.
In 1858, people said the telegraph was 'too fast for the truth': Also on the theme of the speed by which information reaches us, Adrienne LaFrance at The Atlantic uncovers an 1858 New York Times article which complained that the telegraph brought the news too quickly too it public.
Superficial, sudden, unsifted, too fast for the truth, must be all telegraphic intelligence. Does it not render the popular mind too fast for the truth? Ten days bring us the mails from Europe. What need is there for the scraps of news in ten minutes? How trivial and paltry is the telegraphic column?
LaFrance points out how new technologies invariably upset our sense of time and control.
Boy, 4, has mark of devil: The Sun's bizarre choice of a front page story for 29 July 1914 ("A sinister Satan sign that mysteriously appeared on a four-year-old boy is proving a devil to explain") has generated reactions from bafflement to rage.