08 August 2014
St Pancras Intelligencer no. 30
Welcome to the latest edition of the St Pancras Intelligencer, our weekly round-up of news about news - stories about news production, publications, apps, digitised resources, events and what is happening with the newspaper collection (and other news collections) at the British Library.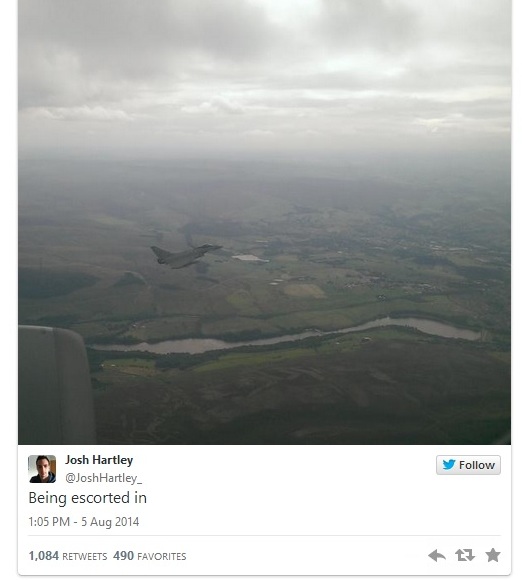 Passenger on plane escorted by RAF to Manchester Airport breaks bomb threat story - social scoops news media again: Anyone can be a journalist - you just have to be in the right place at the right time. Josh Hartley, a passenger on board a Qatar Aiways flight turned unwitting citizen journalist when he tweeted images of a fighter jet escorting the plane to Manchester airport after someone on board made a hoax bomb threat. The Drum reproduces his tweets and those of others and calls it "the latest example of how social media is changing the face of modern journalism". 
The bad guys hate me... but most journalists are decent people and are glad I exposed phone-hacking: Nick Davies book Hack Attack, on the phone hacking scandal, which he was instrumental in exposing, has been the hot topic of discussion this week. He doesn't mince his words in this incendiary interview for Press Gazette.
Anonymous sources are vital, but in the end we need to put a name to them: Peter Preston, commenting on Nick Davies' work, argues that the whole truth requires more than "faceless whistleblowers".
'I'm out of scoops' Daily Express veteran Chapman Pincher dies aged 100: One of the most celebrated of all British newspaper journalists and rooter-out of spies, Harry Chapman Pincher has died , aged 100. An obituaty from the newspaper where he made his name, the Daily Express.
How the smartphone ushered in a golden age of journalism: Frank Rose supplies a handy overview of the revolution in how we read the news today, for Wired.
First world war: newspaper editors bow their heads in remembrance: Roy Greenslade surveys the newspapers' solemn front page responses to the centenary of Britain entering the First World War.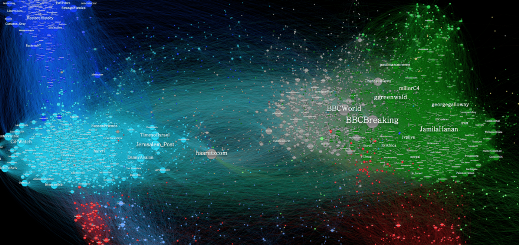 Map of connections between Twitter accounts responding to the bombing of a school in Gaza (in July)
There is only one major news site that both pro-Israelis and pro-Palestinians read: and it is left-wing Israeli paper Ha'aretz, according to Quartz, also our source for this striking graphic by Gilad Lotan for Betaworks.
What Ebola on a plane means for the U.S.: The Ebola outbreak in West Africa is causing alarmist headlines across the world. You wouldn't think Ebola would be high among the concerns of the average American, but it's exciting an obsessive amount of interest there, as in this Daily Beast piece.
One year in: 10 ways The Washington Post has changed under Jeff Bezos: So how has The Washington Post changed since Amazon's Jeff Bezos bought it last year? Not as much as some might have expected, to judge by this DigiDay piece.
8 new titles, including the London Evening Standard: New newspaper titles keep being added to the roster of the British Newspaper Archive, and new titles added including the Evening Standard (for 1860, 1861, 1862, 1866, 1867 so far) and Glasgow Daily Record (1914, 1915) with more to follow. There are 8 million pages on the site; the target is 40 million (by 2020).
How the BBC approaches longform, immersive storytelling: Giles Wilson, features editor for BBC News Online, tells journalism.co.uk about the art of multimedia online journalism work.
Russia enacts 'draconian' law for bloggers and online media: The BBC reports on the new law passed in Russia which says that bloggers with more than 3,000 daily readers must register with Roskomnadzor, the mass media regulator, and conform to regulations that govern the country's larger media outlets.
Should news get personal? Emotion and objectivity in the face of suffering: We were a bit late in discovering this post from Charlie Beckett at the LSE's Journalism and Society Think Tank Polis blog, but it's a thought-provoking (and comment-provoking) piece on whether journalists should get emotionally involved in their stories (with specific reference to Channel 4 News' Jon Snow's The Children of Gaza video.