16 September 2014
Here come the papers
Print newspapers are coming back to the British Library. In November 2013 we closed down the Newspaper Library at Colindale in north London and put an embargo on all access to print newspapers while we began the transfer of the newspaper collection to Boston Spa in Yorkshire, and while we built a new reading room at our St Pancras site in London. The Newsroom opened in April 2014, providing access to our microfilm and digitised newspapers, as well as many electronic news resources. Now we can announce the return of the print - in stages, and with some important caveats.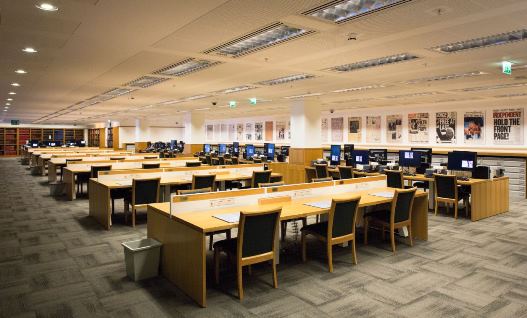 The Newsroom
The print newspapers are going to be fully available at our St Pancras and Boston Spa reading rooms in mid to late November 2014. From 29 September, however, an initial selection will be made available, which will include:
English and Welsh regional titles (excluding 1901–1908 and 1957–1960)
Scottish titles (excluding 1900–1960) 
Irish titles (excluding 1838–1905)
London titles
Nationals
The remaning titles will then become available in November. The titles can be ordered using our online catalogue, Explore the British Library, and will be delivered to the Newsroom within 48 hours. The online catalogue has improved information on the titles and volumes held by the Library, and you can track the progress of their requests using My Reading Room Requests. 
However, it is important to note that we are only providing access to print newspapers where there is no 'surrogate' copy i.e. a copy on microfilm or in digital form. That is because the preservation of the fragile newspapers is paramount, the chief reason why we closed down Colindale and opened the £30M dedicated storage facility, the Newspaper Storage Building, at Boston Spa. So, only if there is no microfilm or digital copy will we provide access to the newspapers, something which is now built into the newspaper request system.
Approximately two-thirds of the 60m newspapers that we hold have not been copied onto microfilm nor digitised. Many research needs can therefore only be answered by providing access to the original newspaper, and after a considerable amount of work behind the scenes we are delighted to say that we are ready to start delivering such a service.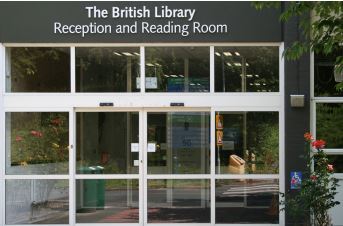 Entrance to Boston Spa
We are also delighted that access to the print newspapers will be not only at St Pancras but in our new reading room at Boston Spa. Here we will provide the same access service at we do at St Pancras, with the exception of microfilmed newspapers and early printed newspapers (17th/18th centuries), which are only available at St Pancras. This means that the same 48-hour delivery time applies, and that no access will be provided to a print copy where a surrogate copy exists (even if that surrogate is accessible in London). 
Incidentally, for those nostalgic for the old newspaper reading desks with their distinctive overhead lamps at Colindale will be delighted to learn that we have retained two of them (with four reader seats at each) for use in one corner of the Boston Spa reading room.
So, in summary, we will start making some print newspaper available from the end of September, and will be able to provide access to the entire collection - print, microfilm and digital - from mid to late November, one year after Colindale closed. Where a microfilm or digital copy is available, we are making that available to researchers rather than the print copy. But the entire collection will be available once more, in one form or another (bar some print titles in an unfit condition). Newspapers will need to be ordered 48 hours in advance; microfilms can be ordered with 70mins notice; digital access is automatic.
There is more information on these changes in our September 2014 Collection Moves News Bulletin (PDF format).